This post is also available in:

Deutsch
Scott is renowned for producing high-end bikes. At this year's Eurobike 2018 it presented the new Strike eRIDE — a plush and comfortable eMTB platform — as well as the rest of its E-Bike range, now grouped together under the "eRIDE" moniker. We've put together all the details for you here.
Inhalt
Scott is changing the naming conventions for its E-Bikes and all motorised models are now grouped under the "eRIDE" label. Throughout the range its eMTBs are fitted with short 165mm cranks and 200mm rotors at the front and back. That's what we like to hear! Scott has clearly listened to the requests of its customers and dealers and has added two bolt points to allow you to attach a side stand as well. A suitable number is available from Synchros for € 29.95.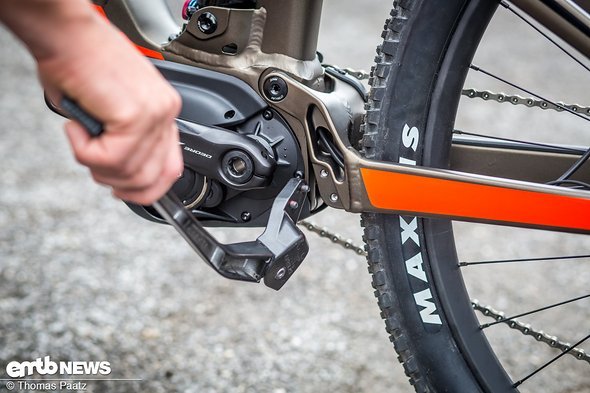 #
Thanks to the integrated kickstand mount...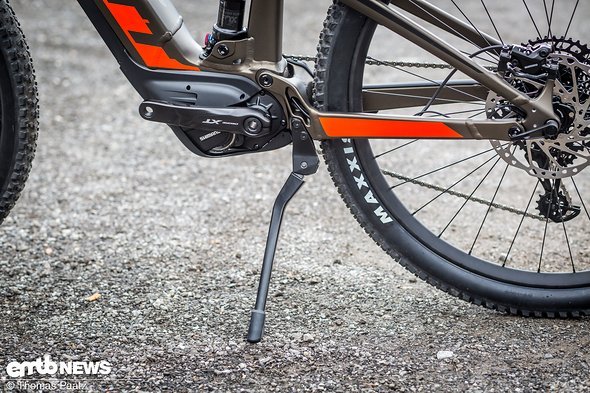 #
... it's easy to attach a secure stand to the E-Bike
Interestingly there's no updates to the E-Scale series for 2019.
Scott Strike eRIDE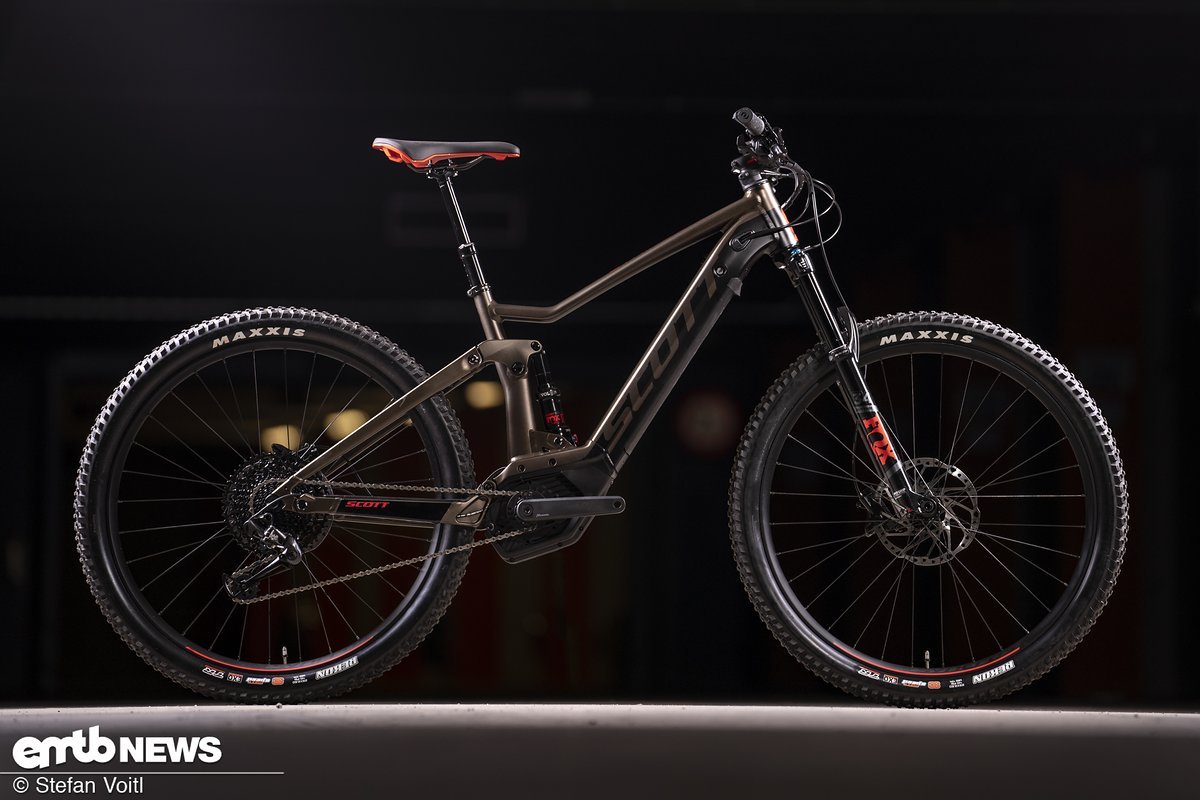 #
Scott Strike eRIDE
- the new E-Trailbike has 140 mm travel and fits both 27.5" + and 29" wheels
"Comfort is one of the top priorities with this eMTB" Felix Diehl, Marketing Manager for Scott.
The Scott Strike eRIDE is a completely new platform for the premium brand. The range consists of comfort-oriented E-Trailbikes with 140mm travel. The contact points have been chosen with ergonomics in mind. Specially shaped soft grips ensure that your hands stay fresh and you'll be able to spend long days riding with the comfortable saddle.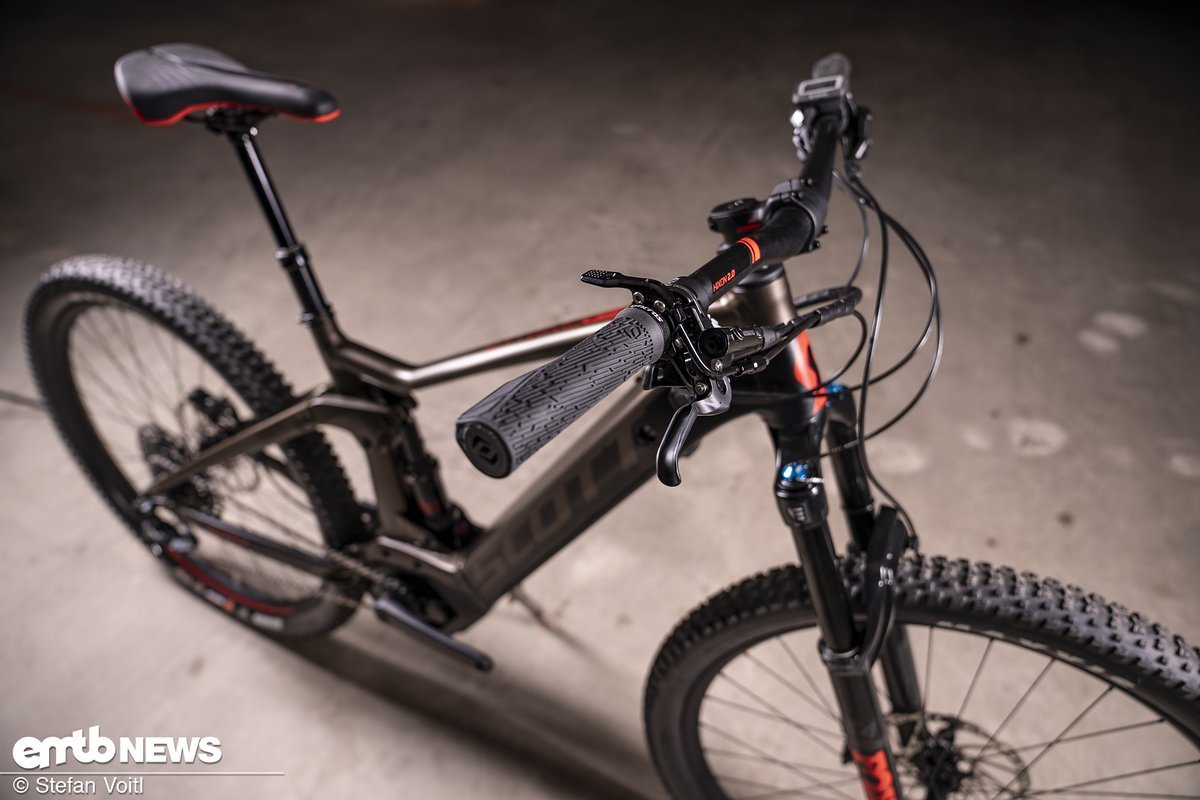 #
The grips, saddle and upright position have been chosen with comfort in mind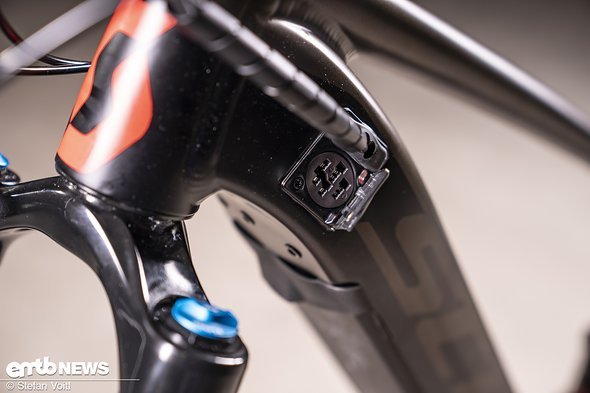 #
The magnetic cover conceals the charging port for the battery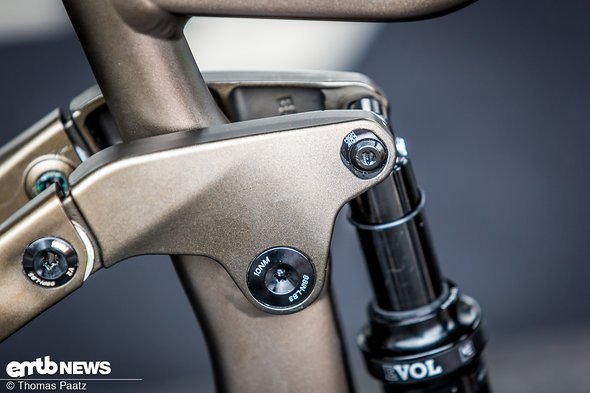 #
The flip chip allows the geometry of the Strike eRIDE to be adjusted depending on the wheel size used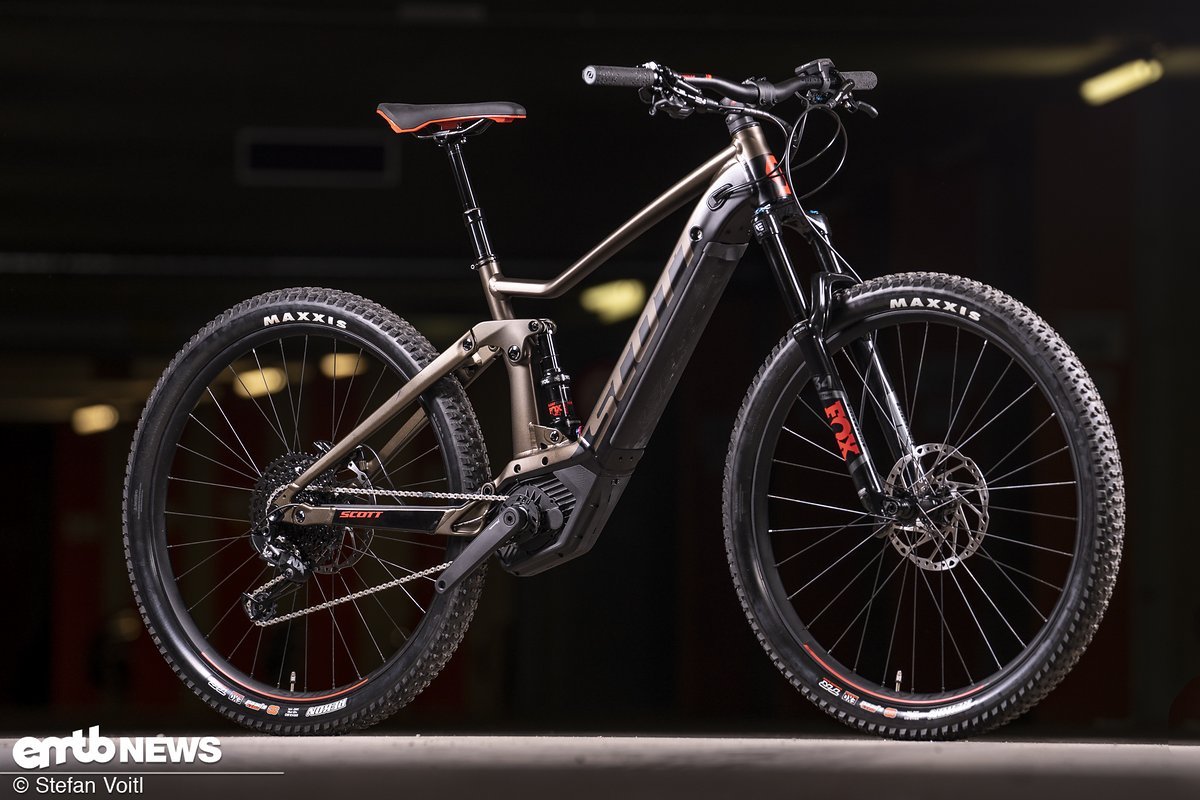 #
The 2019 Scott Strike eRIDE promises a comfortable and relaxed ride
The Scott Strike eRIDE is powered by a Bosch Performance CX motor and fully integrated Bosch PowerPack 500 battery. In order to integrate the battery, Scott had to completely redesign the downtube, and took the opportunity to move the charging port. It's now near the head tube and as a result is very easy to access. The cover closes magnetically and protects the socket from dirt and moisture. The move to an integrated battery means there's now also space on the downtube to mount a bottle cage — nicely done Scott!
If you're not sure about which wheel size to go for, the Strike eRIDE is compatible with both 27.5"+ and 29" wheels. The geometry can be adjusted with a flip chip to suit each wheel size.
For an idea of pricing, the Strike eRIDE 910/710 will cost € 5.999.
Scott Genius eRIDE
The Scott Genuis eRIDE has received several updates for 2019. The much-loved E-Trailbike is still powered by the Shimano Steps E8000 motor and a fully integrated battery. What's different is the 140mm travel at the back that's now controlled by the newly developed Fox Nude TR shock. The shock uses a larger volume air chamber that promises better sensitivity and additional compression adjustment to tune progression as the shock moves through its travel.
Scott Spark eRIDE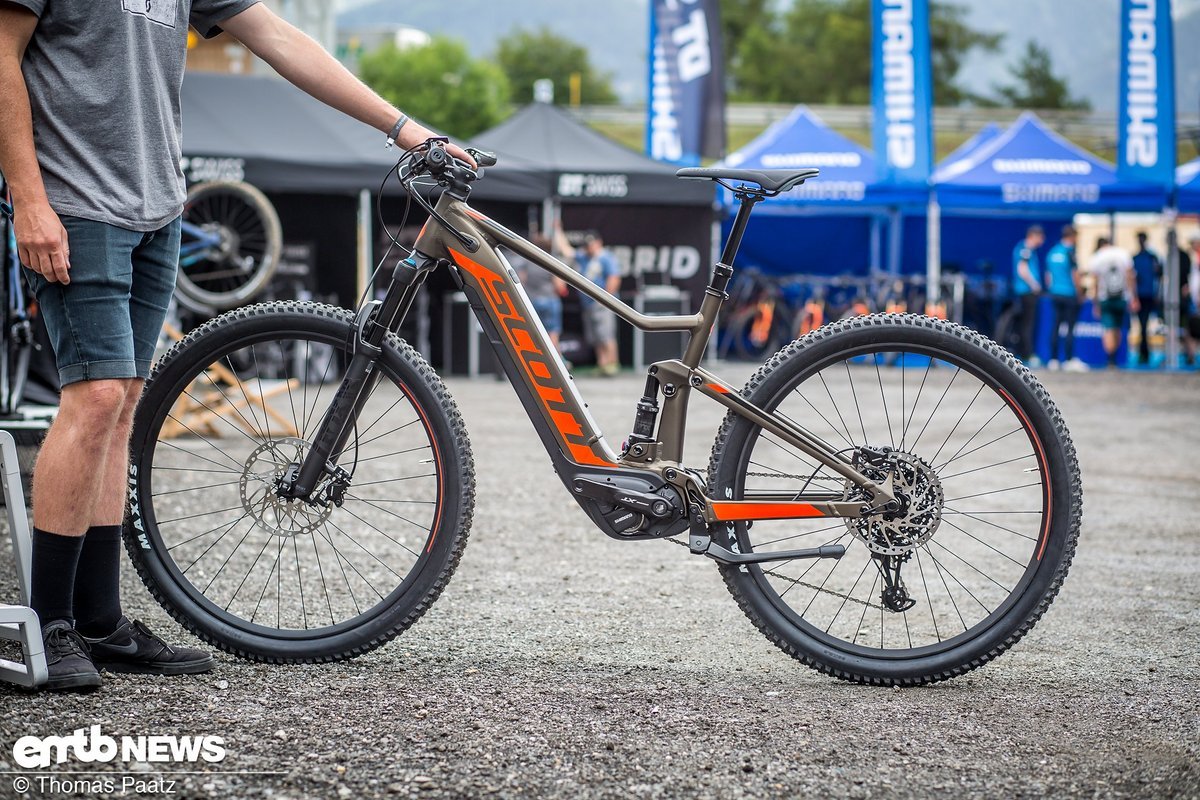 #
Scott Spark eRIDE
- big 29" hoops and supportive suspension suggest an eMTB for fast trail riding
E-Trailbikes with 29" wheels are fabulous!
The Scott Spark eRIDE is a 130/120mm travel E-Trailbike with supportive suspension and a stretched out position. Updates for 2019 include the new Horst-link suspension which adds an additional pivot in the chainstays. That is claimed to improve sensitivity and reduce suspension feedback to the drivetrain. There's also space for huge 29 x 2.6" tyres. It's interesting that small bikes will be fitted with 27.5" + tyres, whilst larger sizes will be fitted with 29" wheels. These models also feature the new Fox Nude T Shock with its increased air volume for better sensitivity.
The Spark eRIDE 910 will cost € 5.999
Scott Aspect eRIDE
The Aspect eRIDE is Scott's E-Hardtail and has benefitted from a completely redesigned frame. The E-Bike is still fitted with a powerful Bosch Performance CX Motor and the battery is now integrated into the downtube. The Aspect eRIDE hardtails also feature mounts for stands and bottle cages. This E-Bike rolls on massive 29 x 2.6" Maxxis tyres and has 120mm travel up front.
A nice feature is that the series is pre-wired to make the installation of lights further down the line easy. There's also provisions for mounting mudguards. That turns the Scott Aspect eRIDE into a bit of an all-purpose beast, that can do most anything you turn it to.
Scott Axis eRIDE evo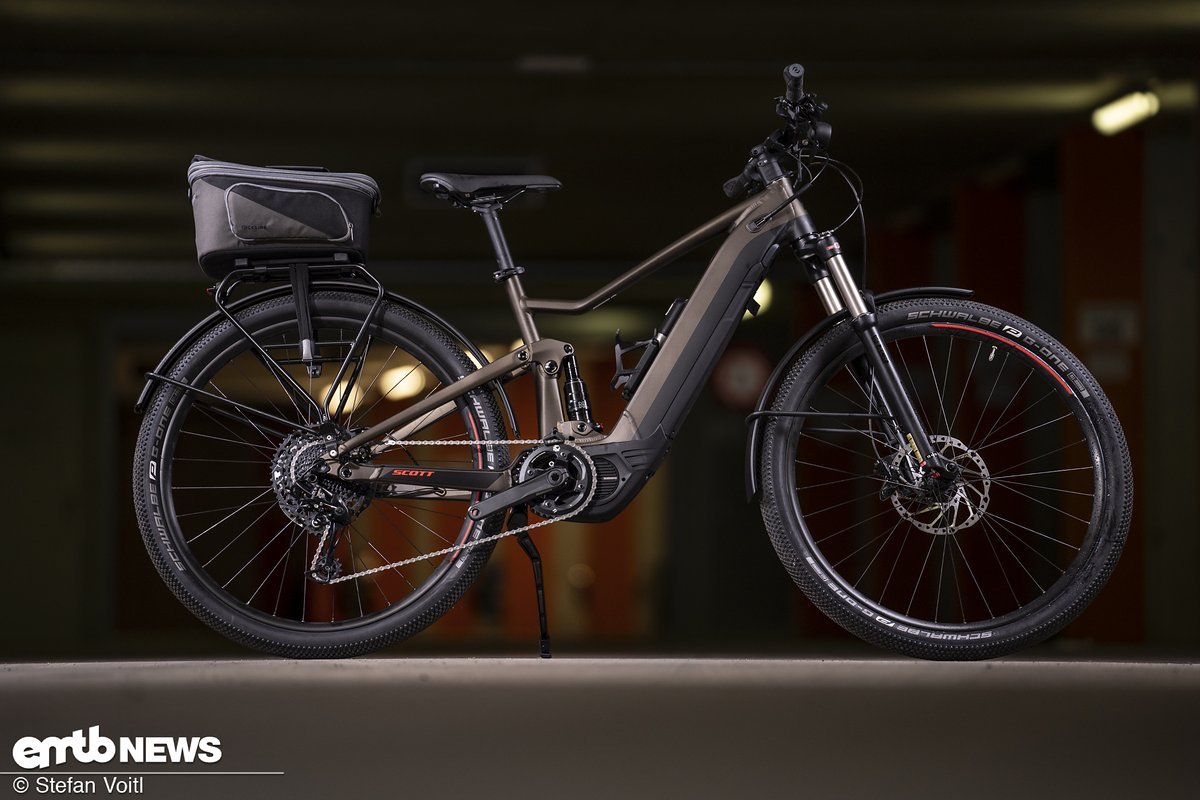 #
Scott Axis eRIDE evo
- an SUV on two wheels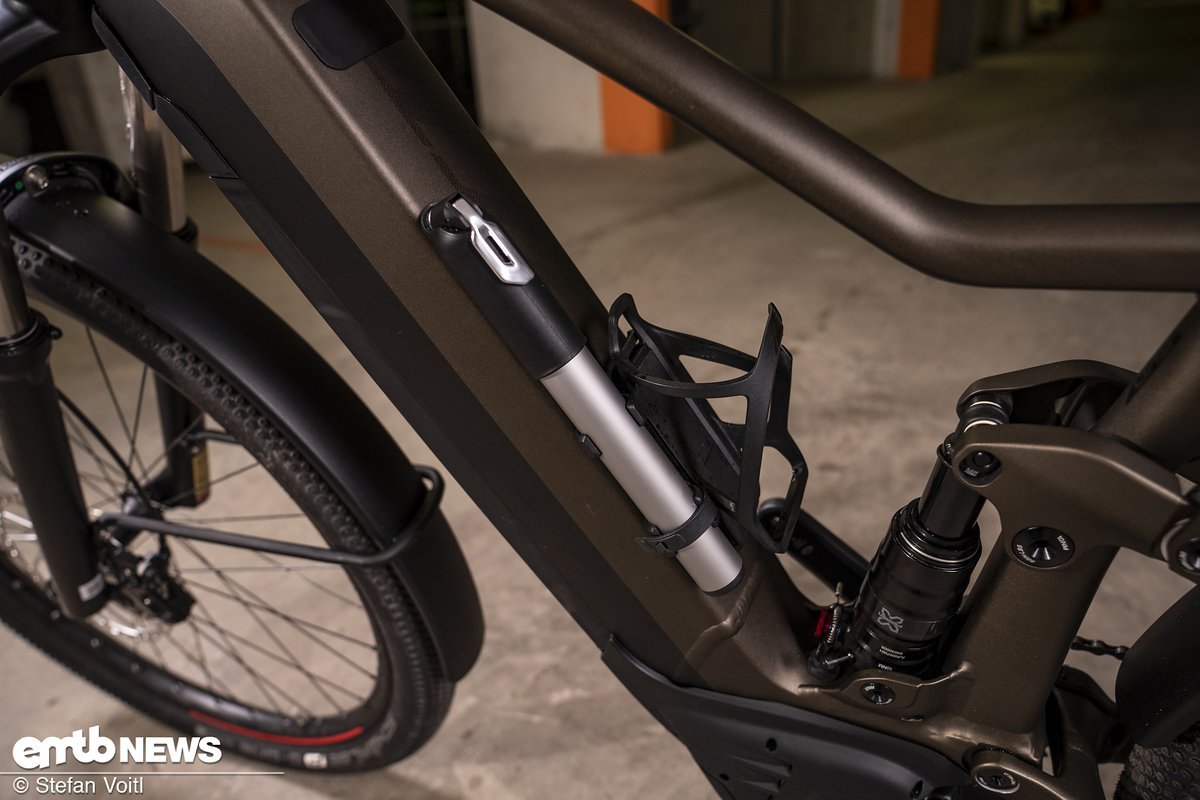 #
The integrated battery means it's easy to fit a bottle
E-Trekking bikes are hugely popular. Tourers, those who simply ride for pleasure and commuters love using these kinds of E-Bikes. The newly developed Axis eRIDE evo is a full-suspension E-bike that could meet all your needs. The range is powered by a Shimano motor and comes fitted with lights, mudguards and a rack.
Pricing for the full-suspension Axis eRIDE Evo will be € 4.799
Scott Roxter eRIDE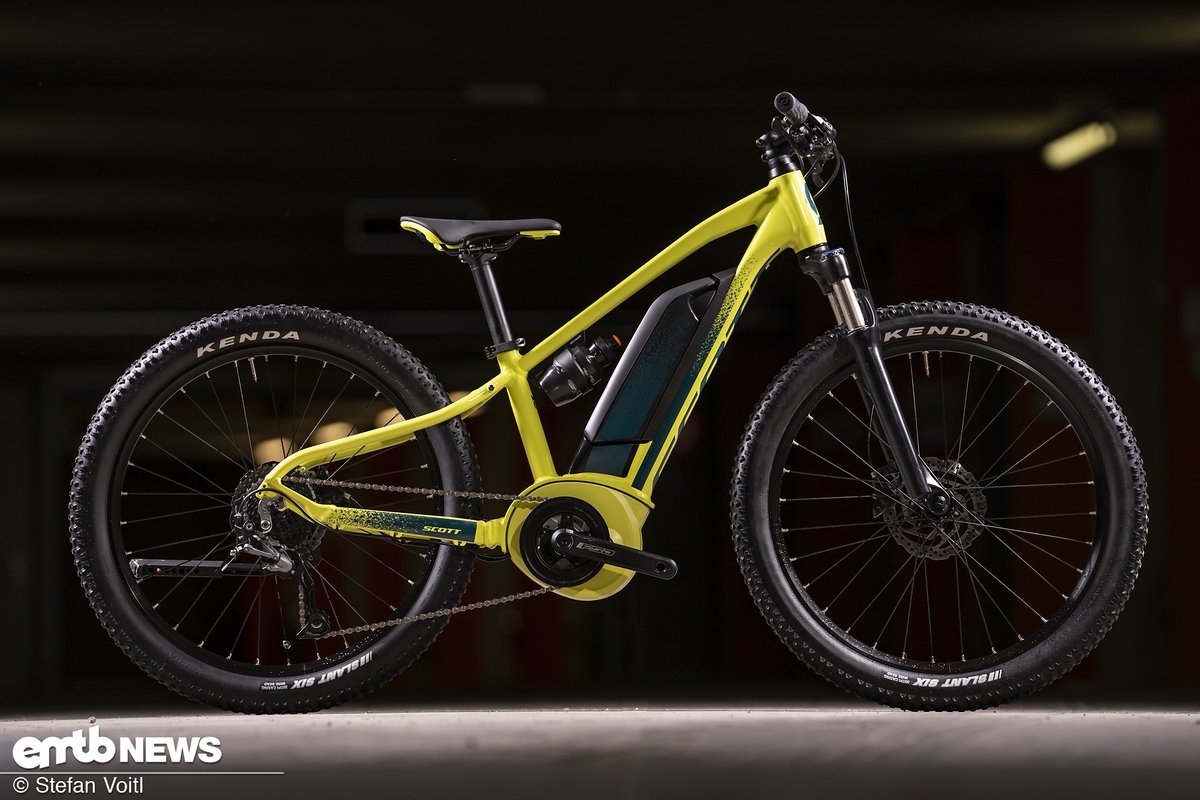 #
Scott Roxter eRIDE
- a small kid's E-Bike, so that the little rippers can have some extra fun too
For 2019, Scott is also introducing a children's E-Bike. The Scott Roxter eRIDE makes use of a Bosch Active motor and is available with either 24″ or 26" wheels. The assistance has been limited to 20km/h for the smaller 24" model
Opinion @eMTB-News.de
Scott has once again shown that it is dedicated to E-Mountainbikes and with the eRIDE series has a great selection on offer. The new "Strike eRIDE" looks like the perfect comfortable E-Bike to just go out and have fun on.
Scott has also worked successfully on integration, hiding batteries in downtubes and adding lots of nicely implemented details such as the kickstand mount.
What do you think of the 2019 eRIDE range from Scott?
---
More news from Eurobike 2018
This post is also available in:

Deutsch