This post is also available in:

Deutsch
What do you require from your pedals when riding in the city? They need to feel secure whatever shoe you happen to be wearing. Doesn't matter if it's sandals, Doc Martens, trainers or heels – commuting requires a pedal that can deal with them all. We've put together a selection that we think have the best features.
Inhalt
Special Pedals – clever little things
Commuting has different requirement for your pedals, than, say, riding an E-Trailbike. Extreme grip is replaced with the "suitable for any shoe" requirement. We've looked at several pedals that use grip tape, like you find on skateboards, or clipless pedals with the mechanism for cycling shoes on one side, and a large platform suitable for everything else on the other.
---
XLC PD-M21
The XLC PD-M21 is an aluminium platform pedal. The surface is covered with grip-tape, just like on a skateboard. This provides ample grip for basically any shoe that you want to use with these pedals. The reflectors will also help increase your visibility at night.
Product Specs:
6061 aluminium body, CNC-machined
Replaceable grip-tape surface
Cr-Mo pedal axle
Sealed cartridge bearing and bushing
Reflectors
Colour: black or titanium grey
Size: 103 x 77 x 18.6 mm
Weight: 316 g
Price: € 56.95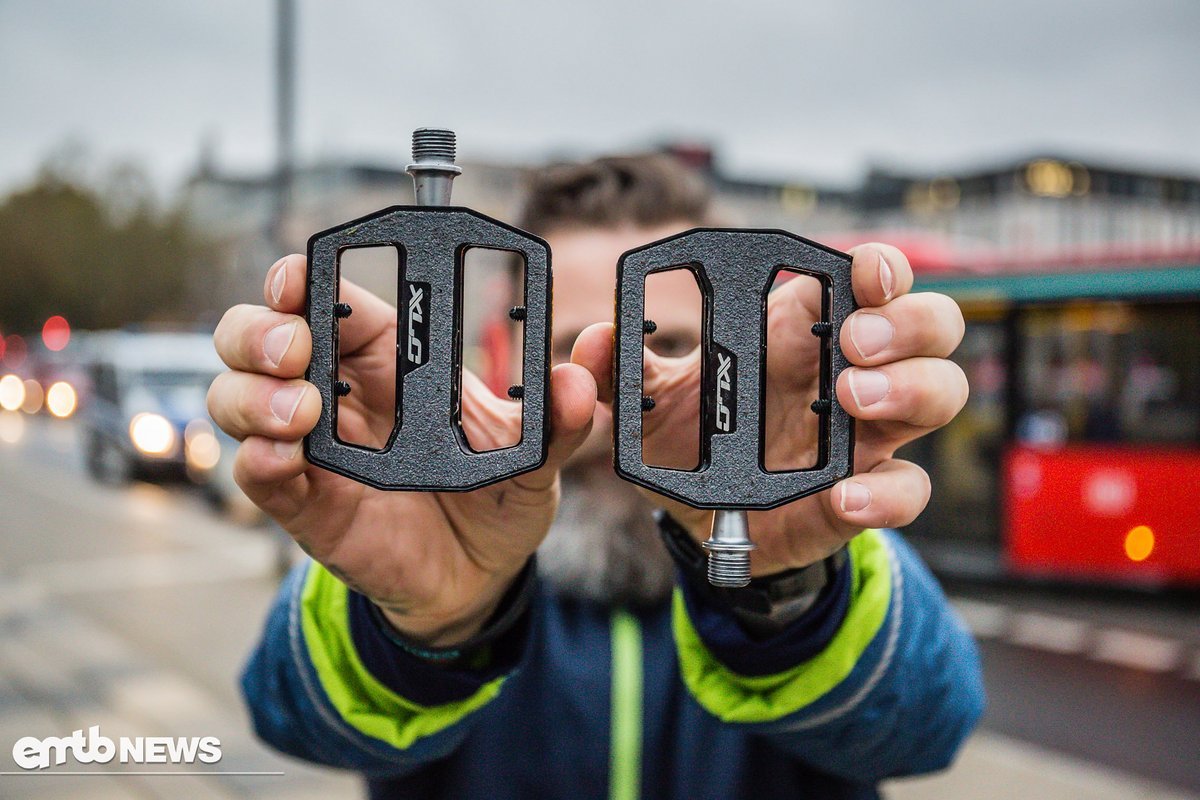 #
Good surface area and good grip
- the XLC PD-M21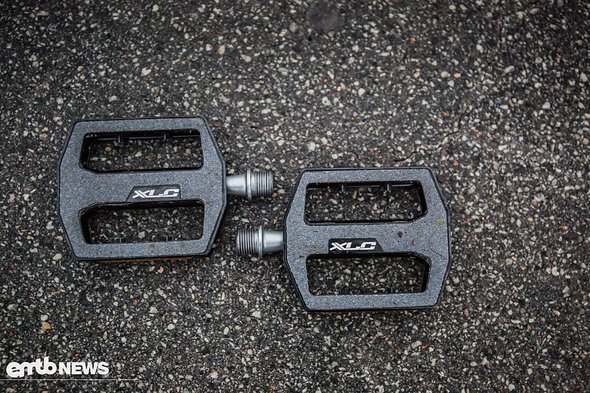 #
A lightweight aluminium pedal
- the pair weighs 316 g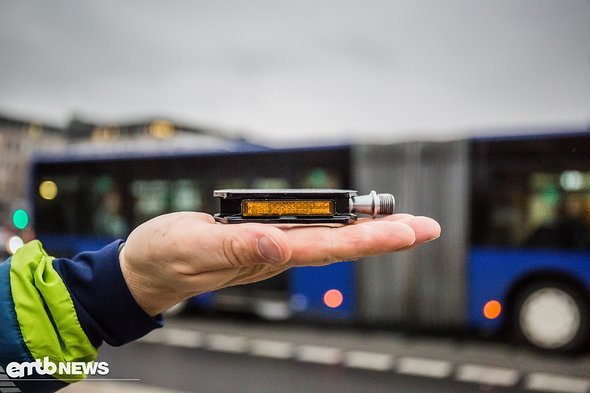 #
A proper reflector will help improve your visibility
---
MOTO Reflex Pedal
Made in Germany! The MOTO pedal is an ultra-thin platform pedal with style and grip to boot. You can use this pedal with whatever shoes you're wearing – it's even possible to ride barefoot if that's something you want to do. The large surface area allows good power transfer and means you stay secure at all times. The reflective tape on the edges also helps increase your visibility. If you really want to indulge, this pedal is also available in an (expensive) wooden model – perfect for you nature lovers.
Product Specs:
15mm thickness
Surface area: 7.6 x 9.2 cm
Price: € 55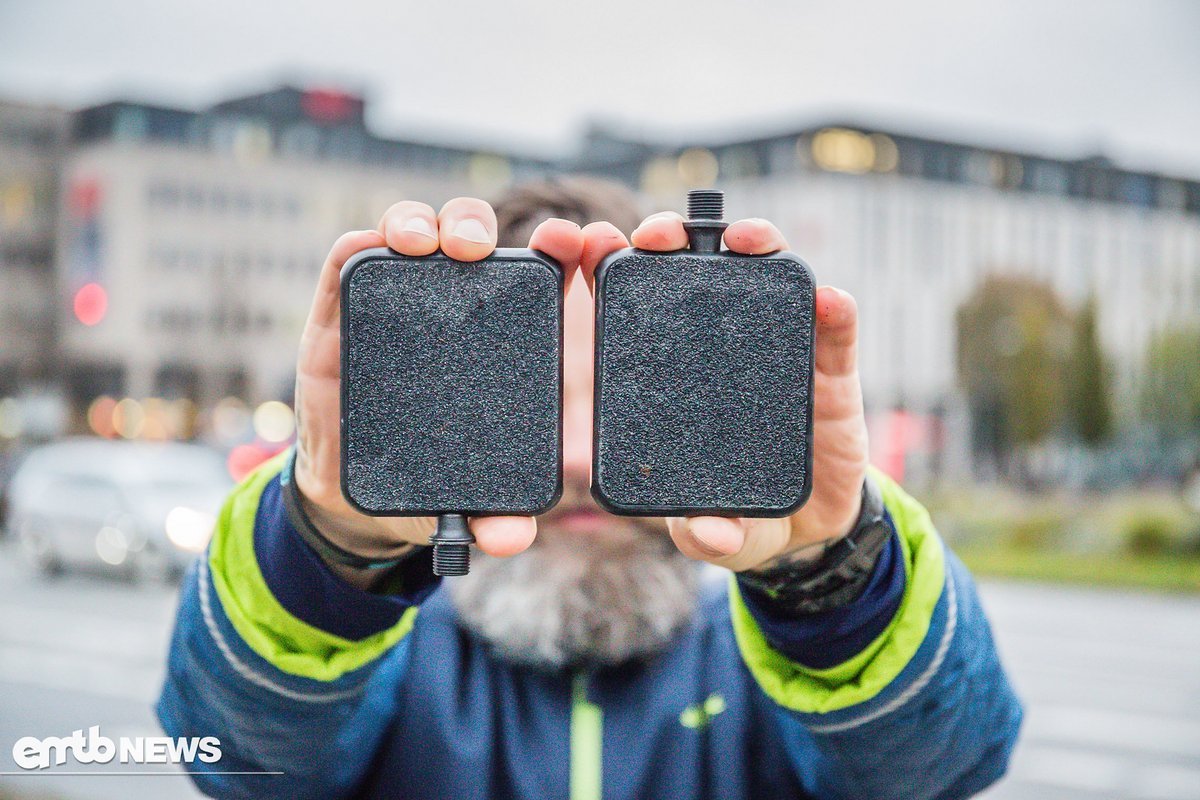 #
The MOTO pedal has a huge area and even works with sandals or flip-flops
---
Crankbrother Double Shot 3
If you just can't ride bear to be without your favourite cycling shoes, even on your way to the office, or if you're just accustomed to a large pedal area or being able to clip in, you might want to consider the Crankbrother Double Shot pedals. These pedals have two sides allowing you to ride clipless or on flats. On one side there's a wide, grippy surface for normal shoes and on the other a cleat mechanism for your cycling shoes – a hybrid pedal so to speak.
Product Specs:
Release: 15-20 degrees
Body: A380 aluminium
Axle: Forged Cr-Mo steel
Bearings: Enduro bearing/ IGUS LL bushing with DSS seals
Weight (pair): 403 g
5-year guarantee
Price: € 125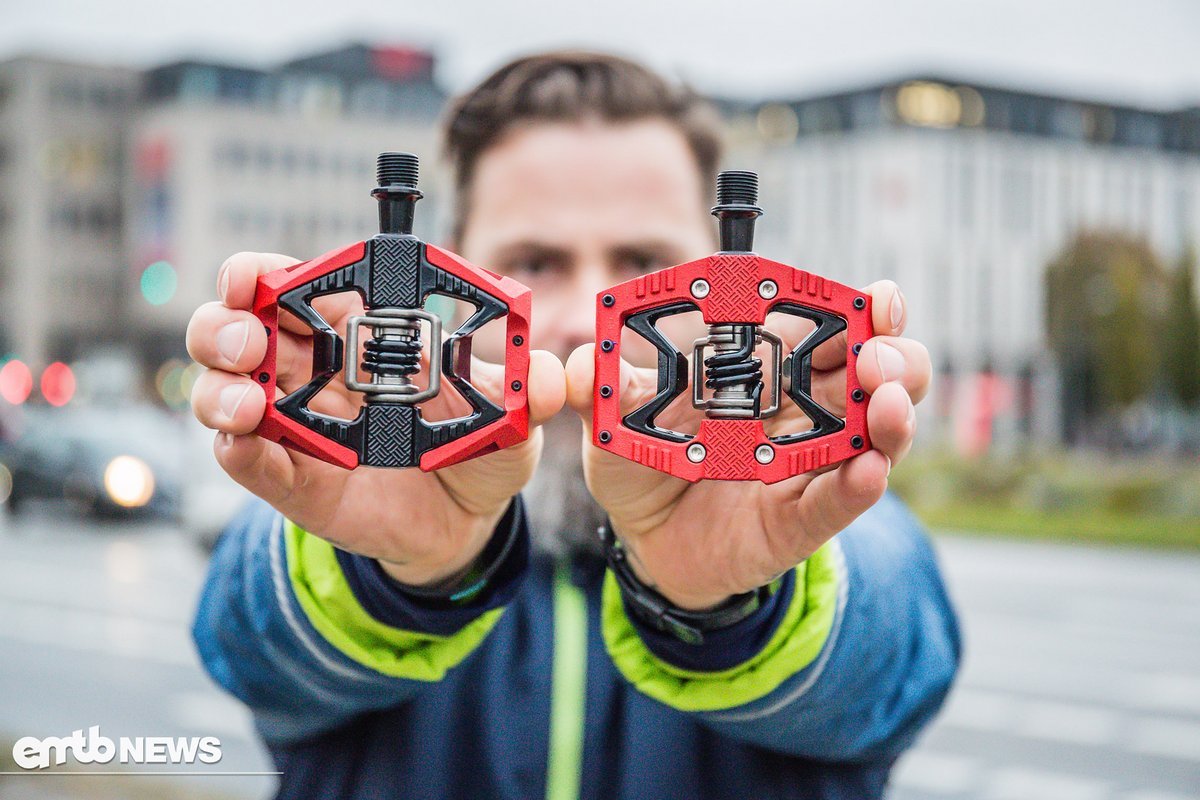 #
The Crankbrother DoubleShot combines clipless and flat pedals
---
iSSi FLIP
You want to use your road shoes for the commute to the office, but also want to be able to ride with flip-flops for your short ride to the shops? The iSSi FLIP could be perfect for you. These bright pedals are Shimano SPD-SL compatible. The iSSi FLIP is a very versatile hybrid pedal that combines the advantages of both SPDs and flats. The wide aluminium pedal body offers a large and grippy "flat" surface, whilst the other side houses the SPD mechanism.
Product Specs:
Axle: Cr-Mo steel – 56.5 mm axle-length
Pedal body: aluminium
Bearings: sealed bearing / bushing
Release: 14.6 or 4 degrees
Release tension: adjustable
Colours: black, silver, pink, white, yellow, purple
Weight: 424 g
Price: € 84.90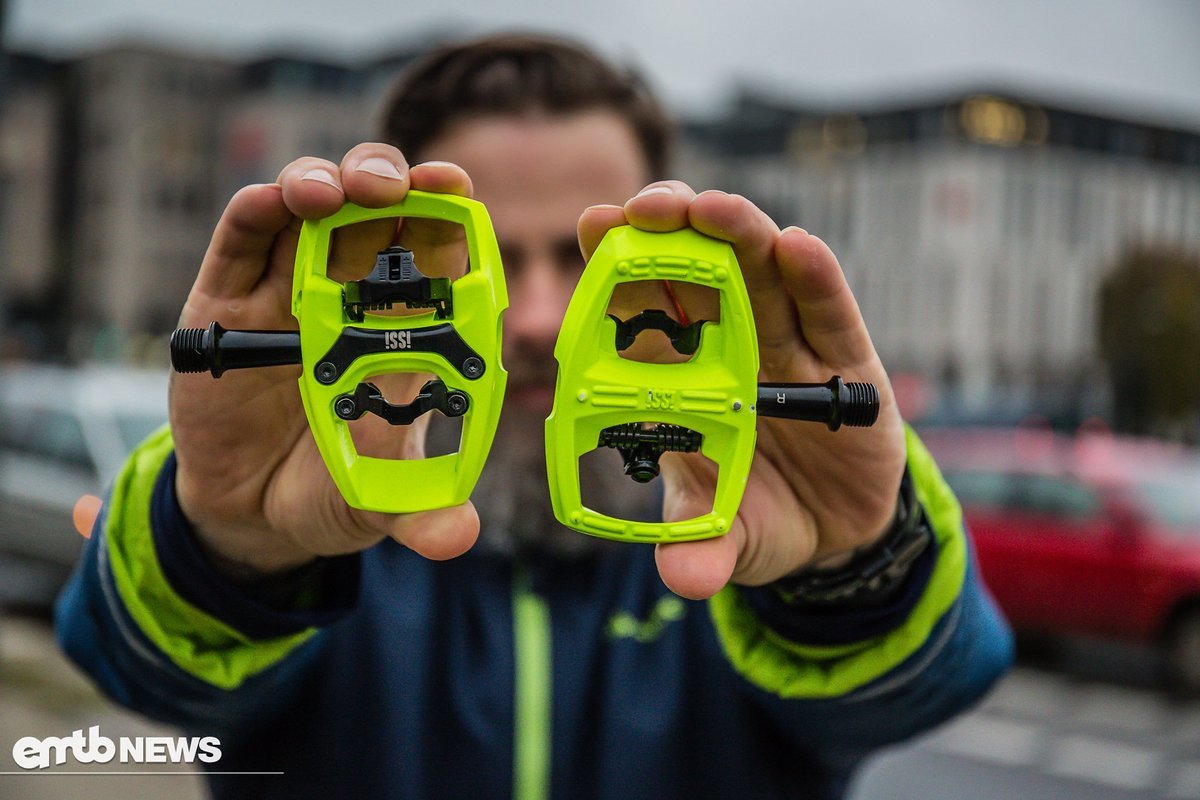 #
The iSSi Flip pedal is definitely loud in this colour option
---
Opinion @eMTB-News.de
Flat pedals with aggressive pins are just as out of place as tiny little XC clipless pedals on a more leisurely commuter bike. Hybrid pedals or platform pedals with grip-tape are the solution. Large surface areas that let you pedal hard without shredding the sole of your shoe are key for a pedal that you can use for your ride in to university or the office. If the pedal also has features to enhance your visibility, then you can't really go too wrong.

For our city-riding, we really like the platform pedals with grip-tape. Just get on and go – it doesn't matter what shoes you happen to be wearing. It's really a revelation!
When you're out and about on your City-E-Bike, which pedals do you use?
You can find all the other articles from our Urban Special here:

---
Further information
Website: www.emtb-news.de
Text & Edit: Rico Haase, Benedict Pfender | eMTB-News.de
Photography: Moritz Zimmermann, Thomas Paatz, Rico Haase
This post is also available in:

Deutsch