This post is also available in:

Deutsch
The southern Alps are well-known for their nice climate and the beautiful Mountain panorama. Mary Moncorgé and Matt Wragg have visited Val di Pejo in the National Park around the Stilfser Joch with their E-Bikes. They report about the nice trails the rode, the good food they had and some more highlights on their Tour. But be careful – the pictures in this report will make you want to pack your stuff and leaf for a little vacation. 
E-Biking in Val die Pejo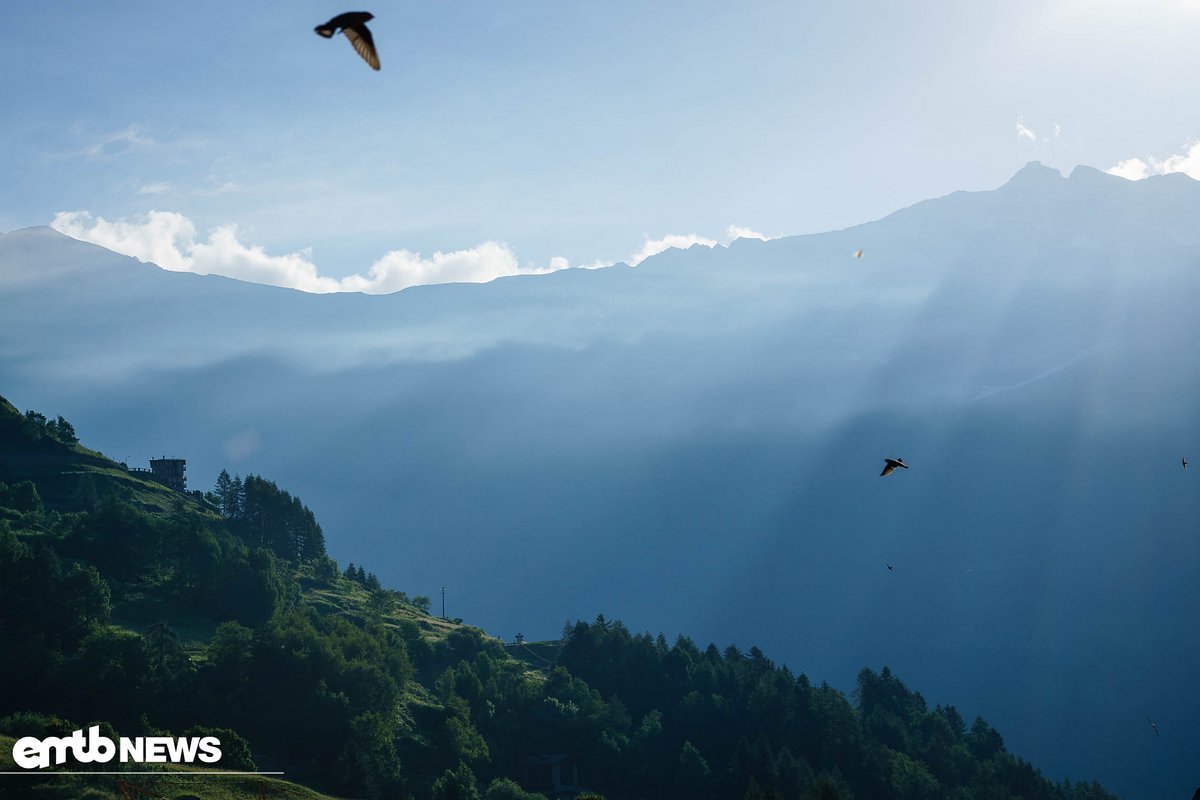 #
mystical light above the mountains in Val di Pejo
When telling a mountain biker you are heading to Trentino province in northern Italy for a race, what first comes to mind will be Val di Sole or Lake Garda. They are both worldly known for its DH World Cup track and its Bike Festival respectively. There is a little-hidden jewel just a thrown stone away from Val di Sole though: Val di Pejo. It is just a 20-minute drive up the valley from Val Di Sole, in the Stelvio National Park. There is no restriction for mountain bikers to ride singletracks in this National Park.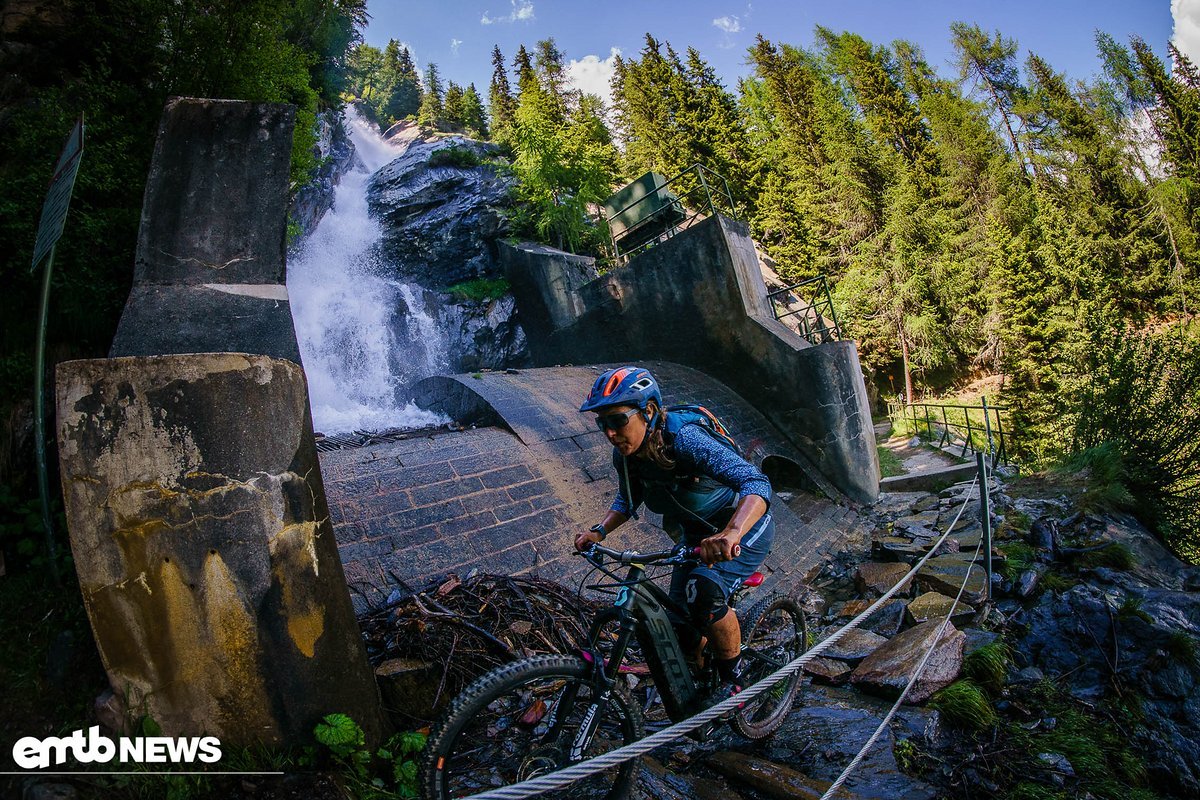 #
tecnical terrain while passing the Liaisons Waterfalls
We were first brought to Val di Pejo for a race, which usually means arrive a couple days ahead of race day to get acclimatized to the area, have a day to recce the course, race and leave shortly afterward as you are eager to go home.
The race course gave us a taste of what we could expect from the whole area and like any delicious sample, you find yourself craving for more.The stages treated to some loamy trails, sprinkled with rocks and roots, while during the liaisons we crossed over waterfalls and rode by abandoned medieval fortifications.
The day after the race, we weren't too keen on doing massive D+, so we grabbed the gondola from the center of town and got a boost to 2000m. Val di Pejo is only in its second year of catering to the MTB community gondola-wise. This year, in addition to the ancient trails, they dug a few rim trails with different levels so you can get around the whole valley and explore the mountains in the heart of the National Park. If you do not feel like taking your muscle-powered bike to this Alpine county, no biggie, e-bikes are more than welcome in the Park. And as a novelty this year, every Refugio in the valley are equipped with recharge stations for e-bikes so you do not have to worry to run out of battery.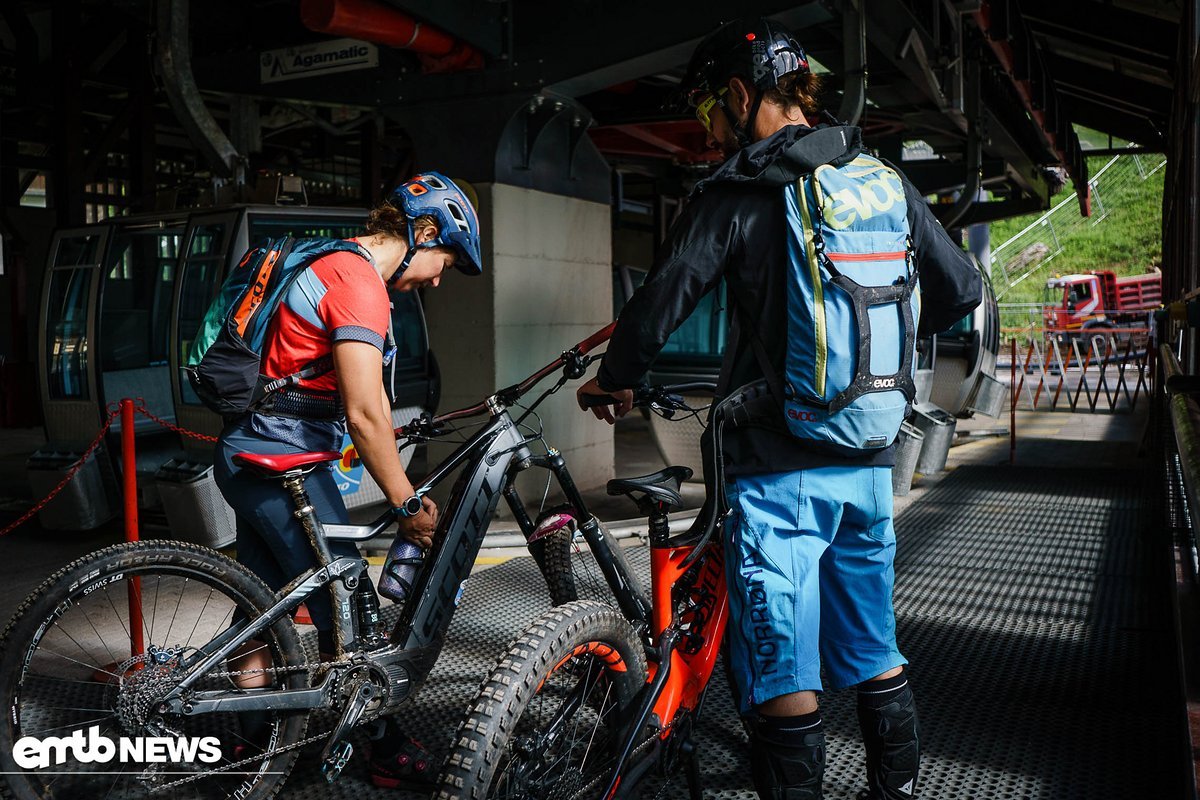 #
the gondola liftet us up in just a few minutes
The loop around the valley makes you cross a few streams. Even if you got the boost up thanks to the gondola you still have to pedal a little but nothing silly either. Refugios around the valley, in addition to recharging your e-bike, offer catering and all meals were prepared with local products by the family running it. While having coffee up there we spotted a couple of ibex running above the trail we just did – and apparently, if you are lucky you can spot bears and wolves. Like most of the Alps, they had a massive snow season this year and we ran into a few névé which made for a few laughs.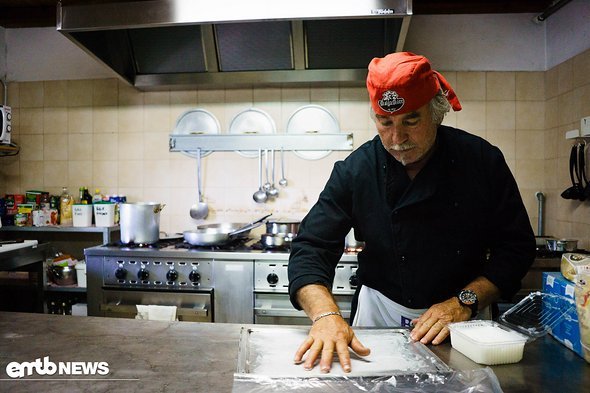 #
We got the fines local food in the Refugios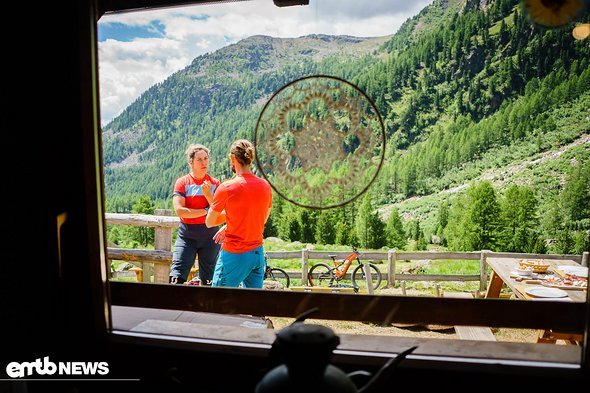 #
the weather was perfekt, so no need for sitting inside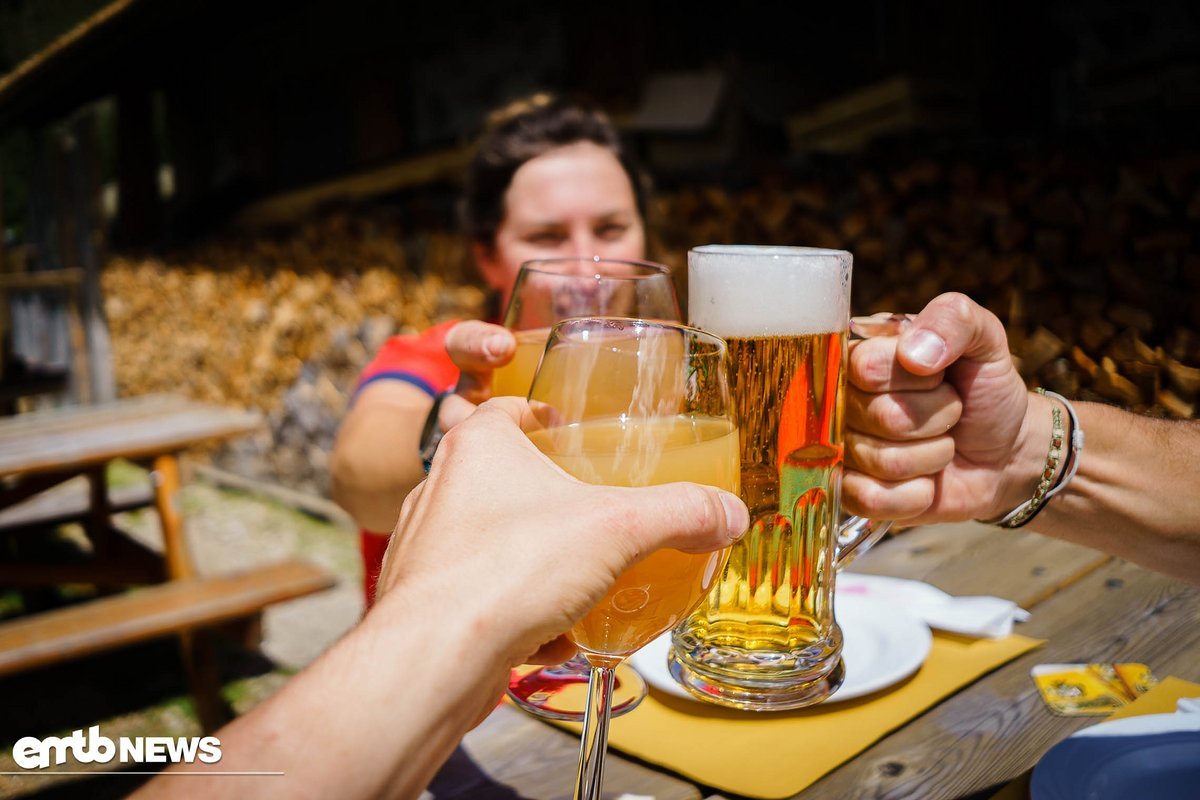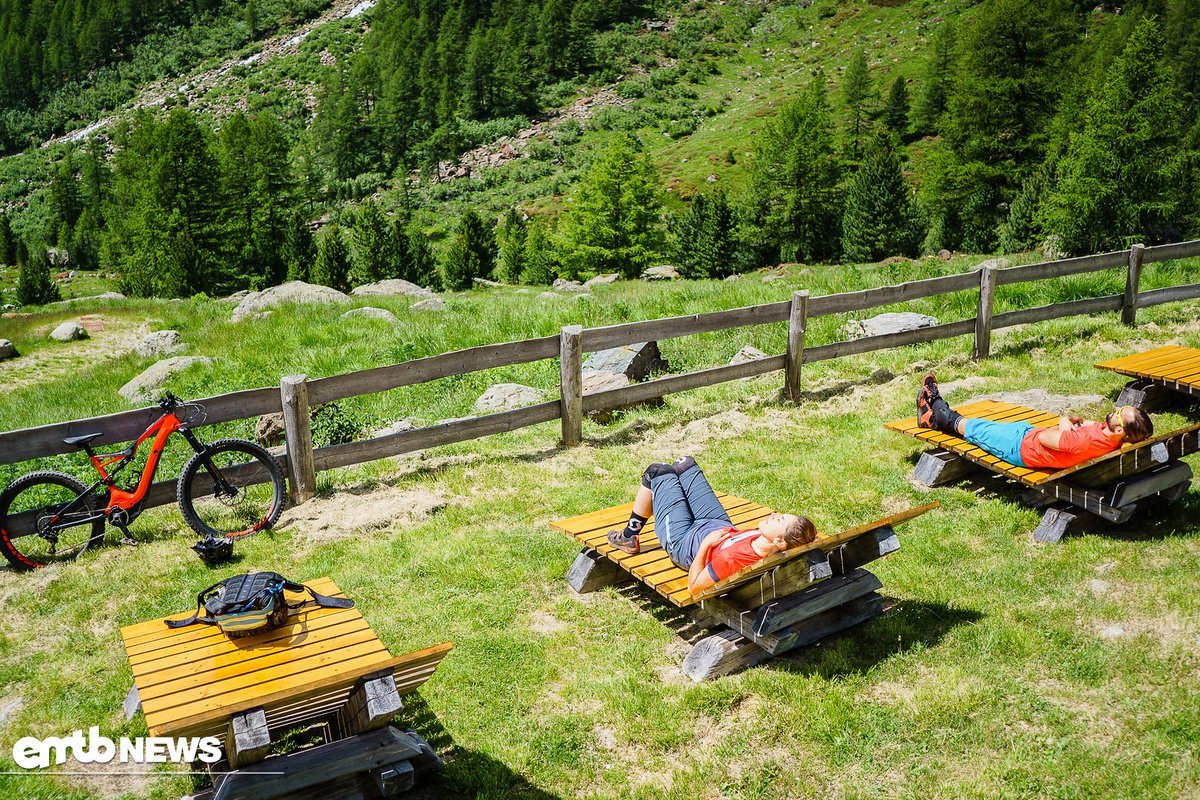 #
a little nap after our bellies where full with good food
The highlights of our ride were:
climbing to 2600m to soak in the view from Passo Cercen onto Val di Sole and Val di Pejo;
zipping through wild rhododendron fields and abandoned farmhouses;
only running into 3 persons during our all ride: one was an old farmer doing some trail cleaning to access his fields and who made us a trivet from the tree he was cutting down and the other 2 were forestry police who were making sure no one without a permit was coming on the park's dirt roads with their 4×4.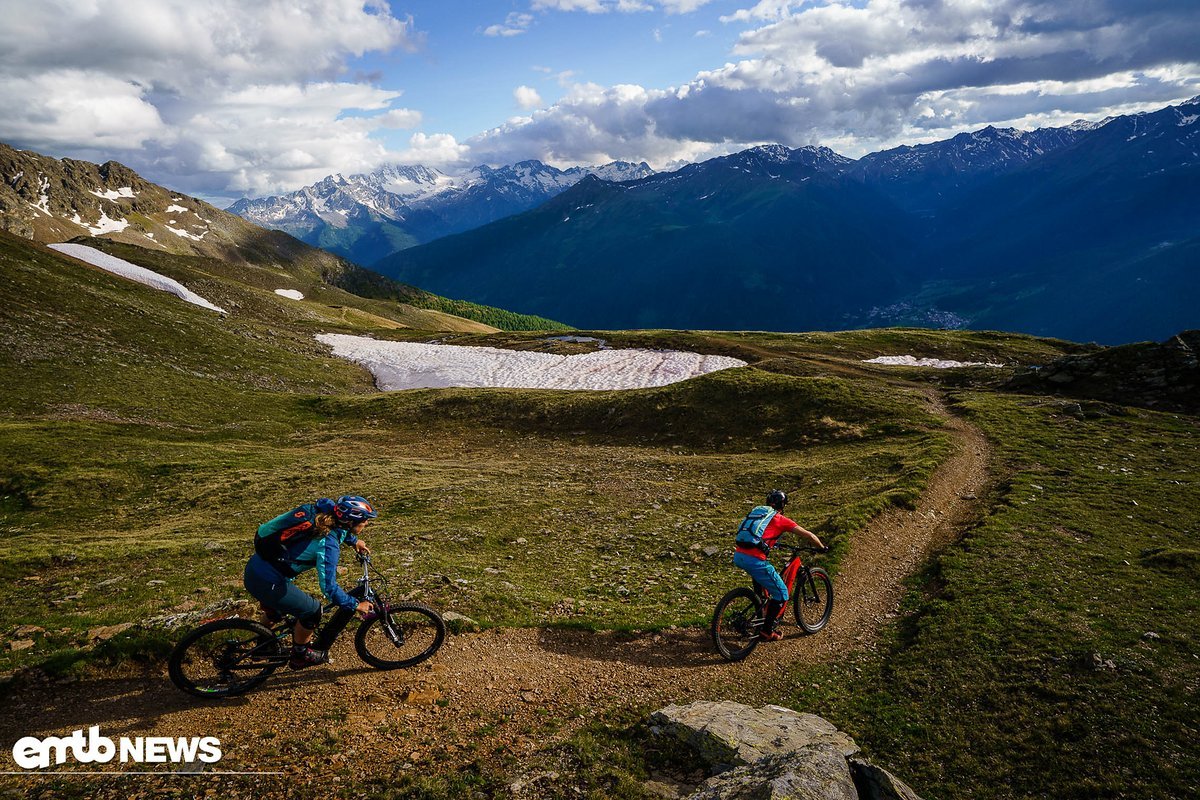 #
we would do it again
- Val di Pejo is a nice place to ride a E-Bike!
All in all, we had an amazing few days racing and exploring around Pejo: people here offer a warm welcome, the food is just to die for and their approach on making the trails more inclusive thanks to e-bikes is quite noteworthy.
So we want to pack our E-Bike and take it for a ride in Val di Pejo! What about you?
This post is also available in:

Deutsch