This post is also available in:

Deutsch
The saddle and grips are probably the most important points of contact to the bike. That's why Specialized has invested a lot of time and money to create a comprehensive range of saddles for all types of riders. The Specialized Henge Expert is one of the most versatile and popular saddles. We would now like to find out why this is the case.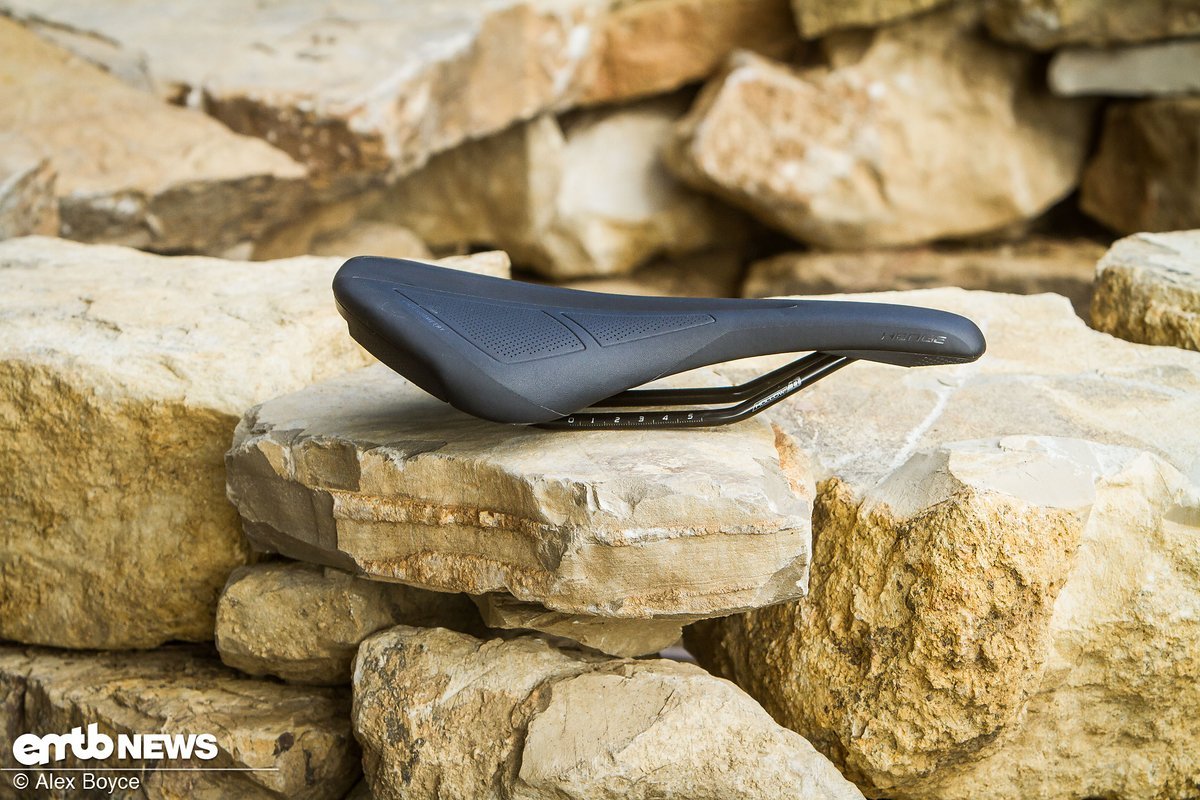 #
The Henge Expert saddle has a lot of technology packed in.
Specialized Henge Expert – In Brief
We have been using the Specialized Henge Expert as our go to saddle for many years now on all our test bikes. We usually ride with the supplied E-Bike saddle. But if we do any extended riding, we switch to the Henge Expert. Saddles are a personal choice, as different saddles offer different personal comfort levels. With our settings for rake and rail position we have found the Henge Expert to be ideal. The wide flat top and body geometry cut out means we experience no uncomfortable pressure when we sit and pedal. The Henge is the most widely offered serial saddle on Specialized branded bikes, which shows its universal appeal and design. The 143 mm width is our most used width with Ti-rails. Even in most aggressive riding positions on the bike we find ourselves at ease with the Henge.
For a price of 130 € (RRP) the Specialized Henge Expert goes over the counter.
"Body Geometry saddles are ergonomically designed and scientifically tested to provide outstanding comfort and support, all while helping to increase blood flow for men and relieve soft tissue pressure for women." – Dr. Roger Minkow, Specialized saddle expert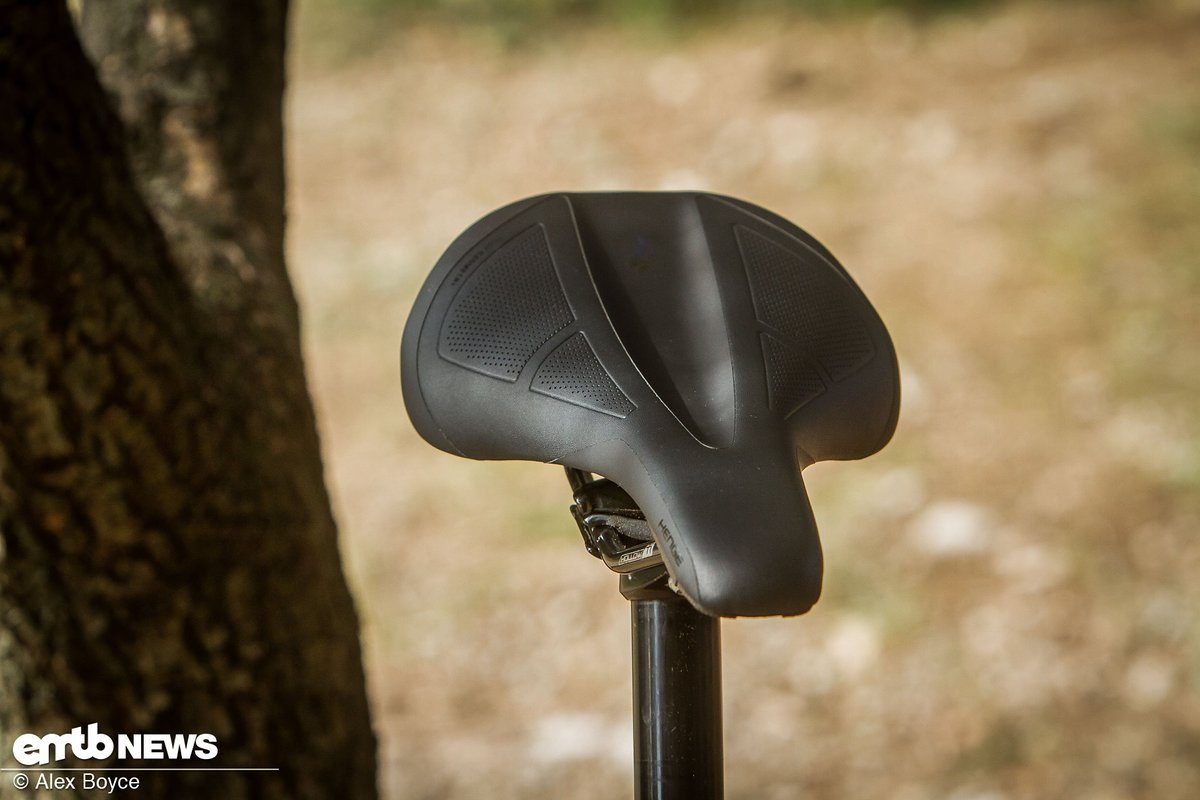 #
Wide and flat with a large centre cut out
Specialized Henge Expert – Technical Specifications
Design
Patented Body Geometry design is lab tested to assure blood flow to sensitive arteries
Padding
Medium density super-light EVA padding for longer rides
Shell
Stiff, carbon-reinforced shell for longevity and all-day riding efficiency
Features
Flush mounted scuff guards for increased durability
Rails
Lightweight and durable hollow titanium rails
SWAT
Compatible with Specialized's SWAT system
Size
143–155 mm
Weight
143 mm / weight 236 g
155 mm / weight 247 g
Price
130 € (RRP)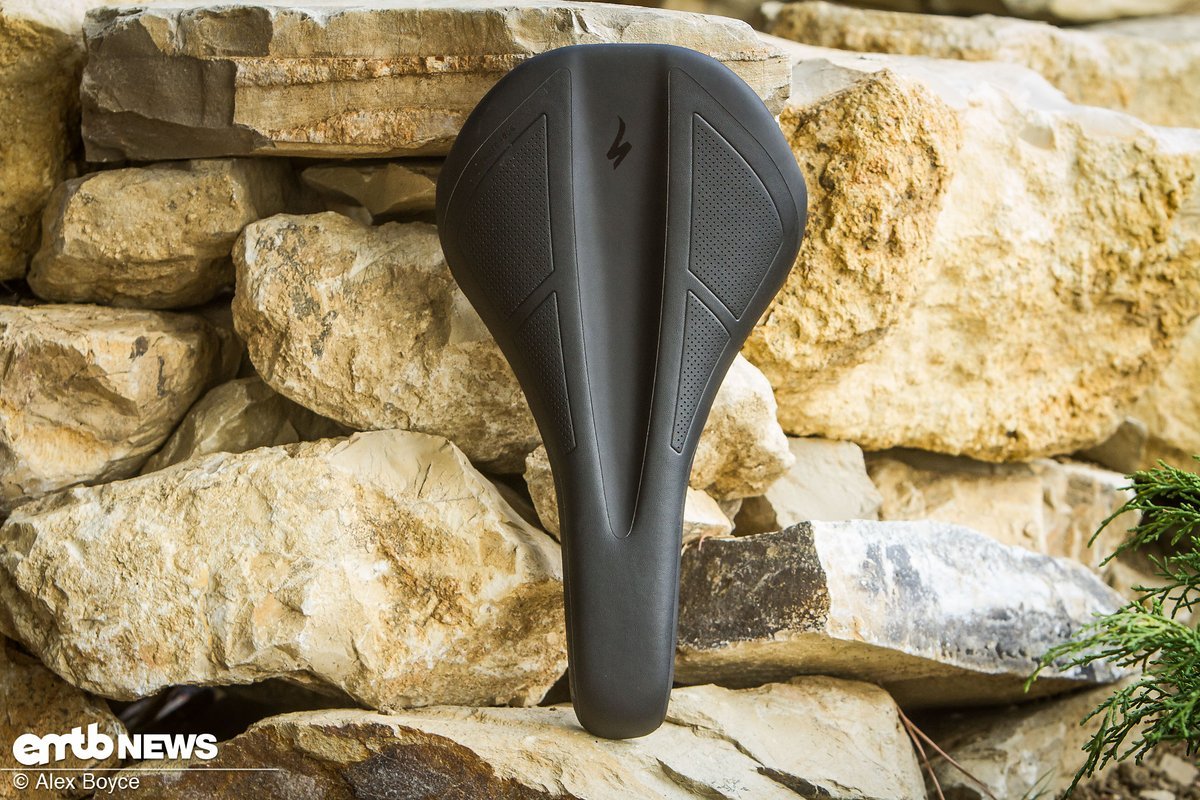 #
The patented Body Geometry Design ensures optimal blood circulation.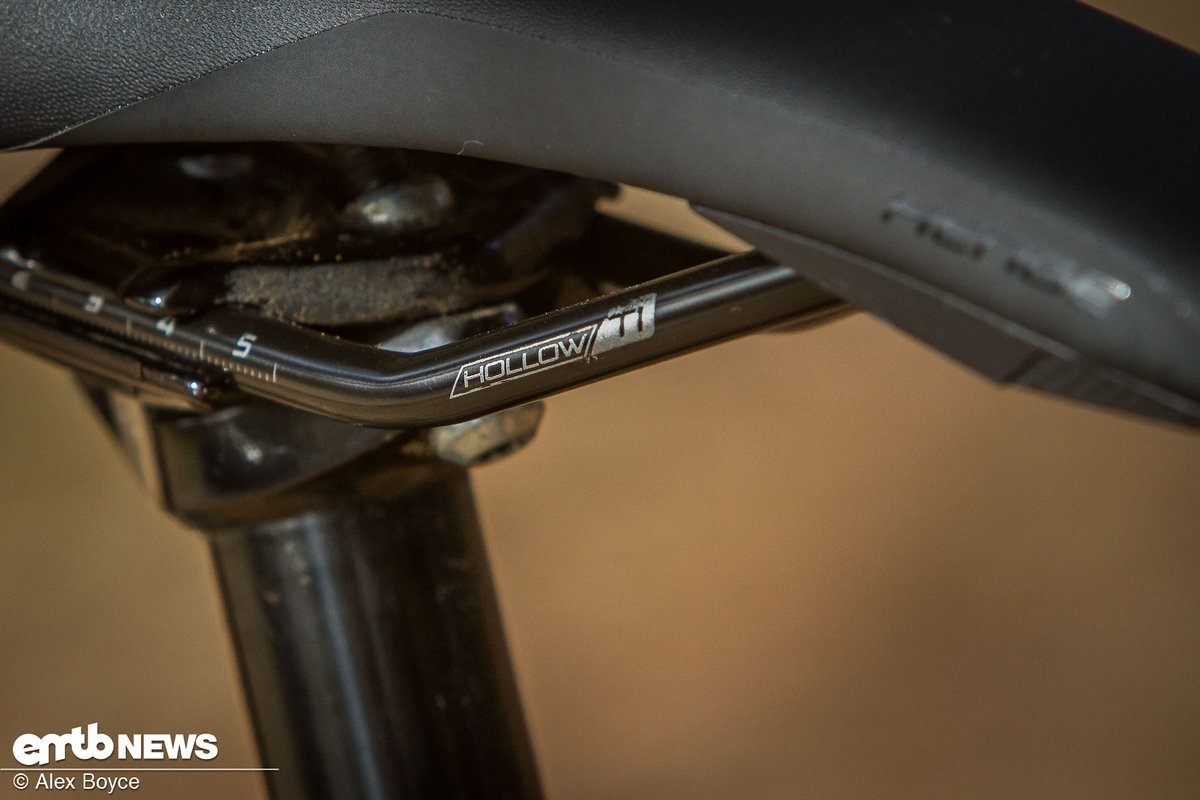 #
The Expert version has hollow titanium rails to keep weight down.
Specialized Henge Expert – Hands On
The Henge Expert has a fairly easy going look to it now, compared to previous versions. The Branding has been reduced to black on black which makes it more likely that the saddle will be used aftermarket. The whole Body Geometry concept of saddle design is about getting the right fit for the rider. If you visit a Retül location, the assistant will actually measure and fit you to the correct sizing for an individual saddle.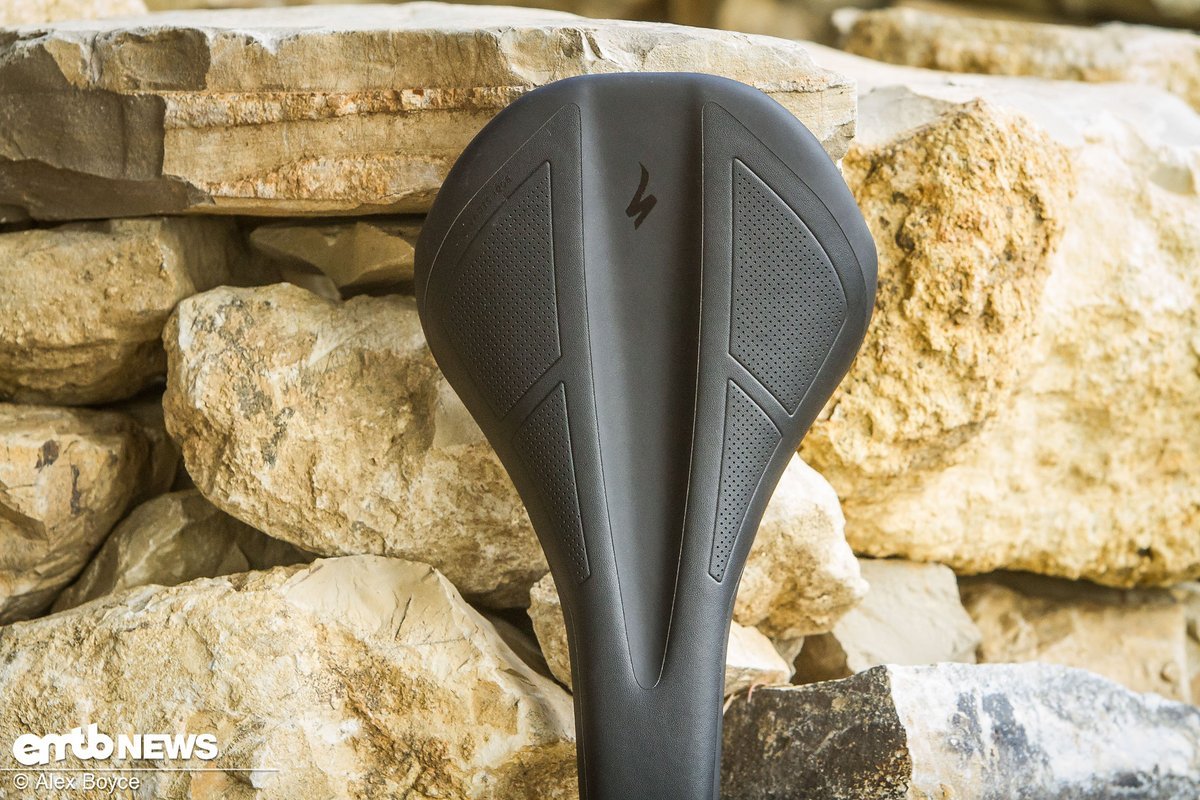 #
The low-friction material at the saddle nose and rear provides sufficient support, while the wide and flat centre section allows variable positioning.
In most cases we tend to stumble across the right fit when it comes to saddles by trying lots of different ones. In our case we noticed especially after long all day rides the Henge was noticable better than anything else we had tried. The secret was the wide flat base and flat nose of the saddle, which fitted our sit bones just right. The hollowed out section is designed to relive pressure on the prostate area. This combination plus the correct rake angle for the rider, gives a really good envelope of comfort. However, when we are sitting, the Henge seems to have enough leeway to never irritate us. We have found other saddles that are comfortable, but the envelope of positions where we are comfortable is much narrower. That's why we have always returned to the Henge as our point of reference.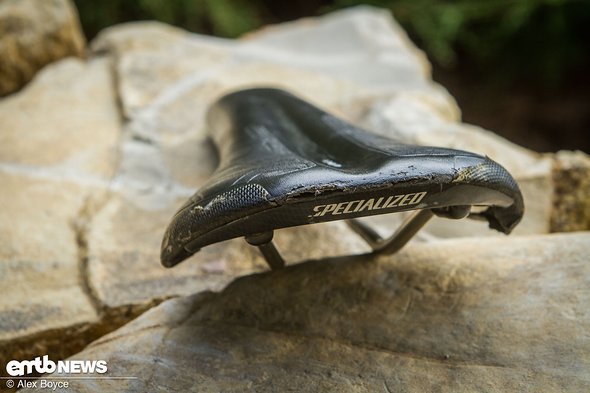 #
Our older model took a beating over the years and survived.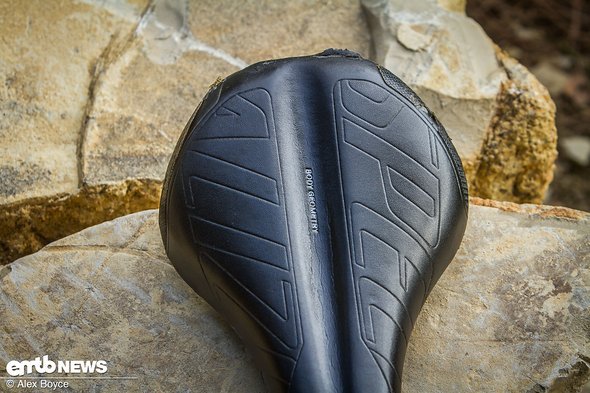 #
It's possible to see how the hollowed out middle channel has grown in size compared to the older version as seen here.
We have been using the older Henge for almost three years: above you can see how worn out it has become. The newer one on various bikes has been our go to saddle when testing. When compared to the newer version we have to say the invisibility feeling when riding and not getting hung up on the saddle is still there like on the old version. The newer one is also more comfortable in the mid part between our legs, due to the wider gap. We tested the SWAT attachment points, which are great, plus the colour is more neutral and fits on all bikes. Padding is really up there as one of the best we have used for all day rides – no numb muscles or bones.
Specialized Henge Expert – On the trail
Riding in an All Mountain environment means the rider often has to get off the back of the bike. Having a saddle which allows that, without hanging the rider up on it is great. The Henge's tail design is low friction and mounting/remounting as the trail changes is really comfortable. The low friction coating on the nose also means when pedalling the saddle does not interfere with the riders legs.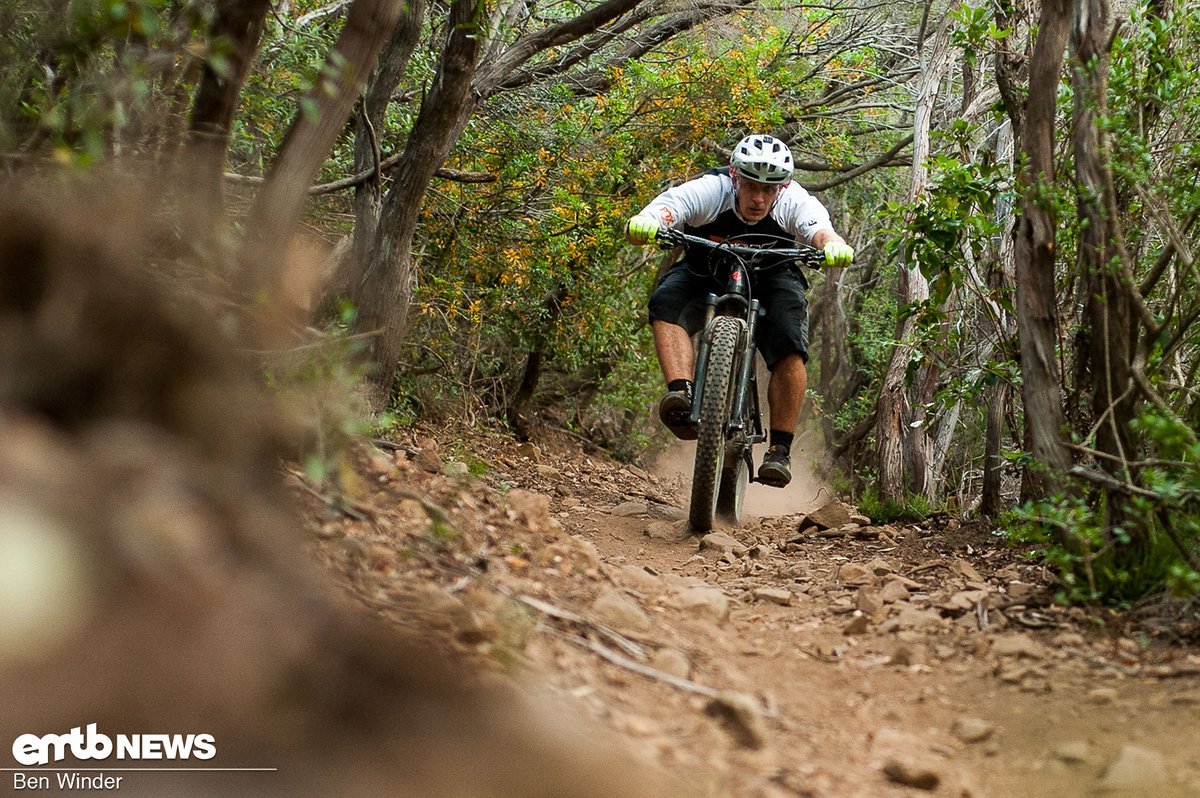 #
In the case of technically demanding passages, the Henge Expert makes it easy to shift weight behind the saddle.
The Henge is in general a bit shorter and flatter than the average saddle. That design has been achieved by years of research. Lastly, if you ride in dusty environments we found that the rail to shell interface creaks over time, but it's less than other saddles we have used.
Specialized Henge Expert – Conclusion
Saddles are all about fit. The Henge Expert is aimed at male riders and offers a fairly wide range of riders a pretty good level of comfort. It is for us our base saddle, which we compare all other saddles against. The 143 mm width is good for large riders like ourselves. The wide flat style is comfortable and easy to move around when out on the trail. Price wise and weight wise it is competitive when judged against quality.
Testing Procedure
Italy: We travelled with the Specialized Henge Expert in Tuscany, Italy, and on the coast of Liguria. There we have ridden various trails: from flowy, smooth and tight uphill to hard Enduro trails.
Tester-profile Alex Boyce
Expand for tester-profile
Name: Alex Boyce
Height: 183 cm
Weight (with riding-gear): 95 kg
Inside leg: 88 cm
Arm's length: 69 cm
Torso: 67 cm
Riding style: soft, jumps preferred, every terrain, Uphill in turbo-mode
What do I ride mainly: E-Bike, Enduro, Gravel.
Preferred suspension: Responsive and direct steering, Plus-Tires
Preferred geometry: Wide bars (800 mm), long frame, chainstays mid-length
Have you already ridden the Specialized Henge Expert? What are your favourite saddles for the daily trail trip?
---
Further Information About The Specialized Henge Expert
Website:  www.specialized.com
Text & Edit: Alex Boyce | eMTB-News.de
Photos: Alex Boyce, Ben Winder
This post is also available in:

Deutsch