This post is also available in:

Deutsch
We've been riding two E-Hardtails, even though everyone always tells us that E-Bikes have to be full-suspension machines. We didn't want to just accept that blanket statement, so decided to investigate with two high-end E-Hardtails. We take a look at the two candidates here.
The bikes on test
E-Hardtails with carbon frames are light!
Haibike introduced the Hardnine in 2016 which, with its high-end carbon frame represented the cutting edge of E-Hardtails at the time. Since then, other brands have started offering E-Bikes in this class and new technologies continue to help wrangle the weight down. E-Bikes without rear suspension generally have one big similarity: they save on weight. In our test, both candidates weighed comfortably under 20 kg.
E-Hardtails impress with direct handling, high precision and honest feedback. Choose the wrong line and it will be clearly communicated through your rattling bars. Particularly interesting with these E-Bikes is the fact that every ounce of power put through the cranks is transmitted directly to the rear wheel, translating directly into forward propulsion.
The cost for these two models is in the range of € 4999 to € 6999.
We tested these two models:
| | Motor | Akku capacity | Weight | Price |
| --- | --- | --- | --- | --- |
| Focus Raven² 9.9 | Fazua Evation | 252 Wh | 15,4 kg | 6.999 € |
| Haibike Sduro Hardnine 9.0 | Bosch Performance CX | 500 Wh | 18,7 kg | 4.999 € |
Focus Raven² 9.9
It can't really be much lighter.
This model was the first production E-Mountainbike to be equipped with a Fazua motor. The system uses a comparatively small 252 Wh battery with a compact motor that is designed to offer a very natural ride feel. E-Bikes fitted with this system are more like hybrids that bridge the gap between a traditional MTB and an E-MTB. Support-bikes is what we would call them.
The Focus Raven2 impresses with its well-conceived carbon frame and a dynamic silhouette. Thanks to the clean lines and proportions it looks very similar to an unpowered mountain bike. However, if you're looking for a relaxed and comfortable ride, we have to disappoint you, because this E-Bike is for those who like a long, low and fast position.
You can find our full review of the Focus Raven2 9.9 here (16.04.19).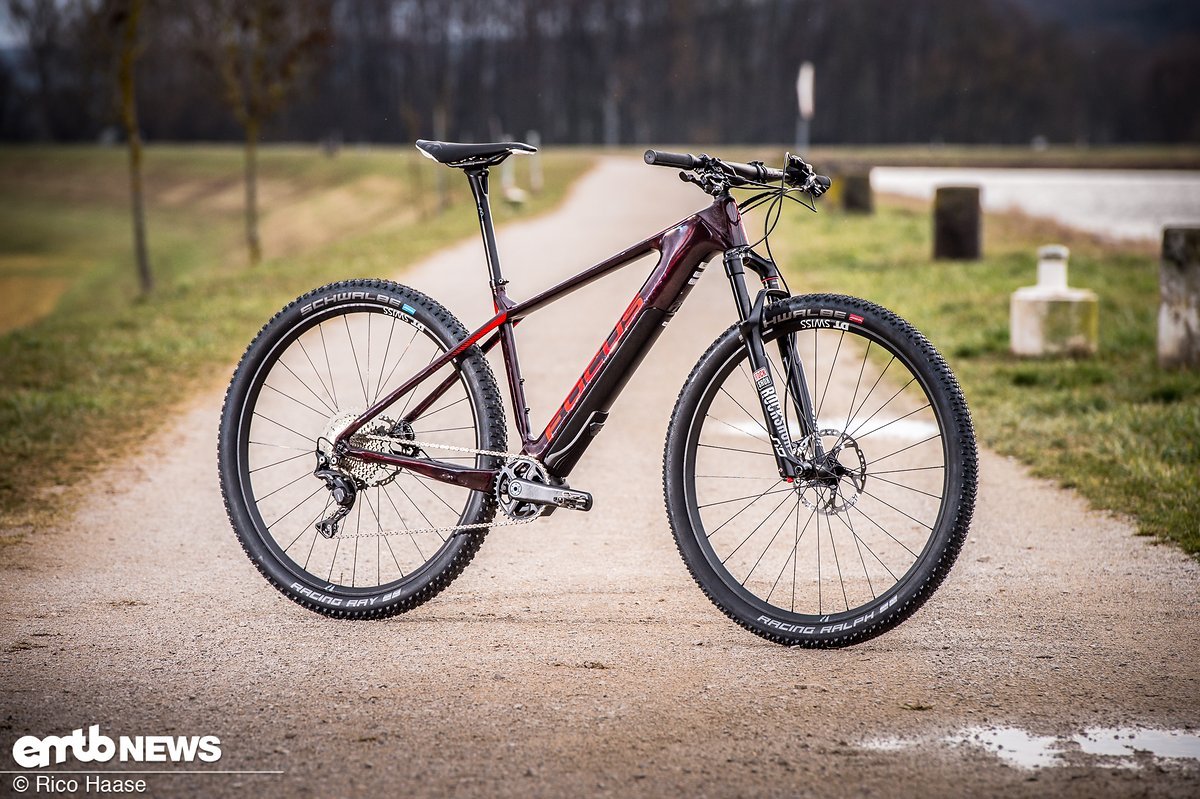 #
The design of the lightweight Focus Raven² 9.9 is modern and timeless
- you have to look a lot closer to figure out that this is an E-Bike.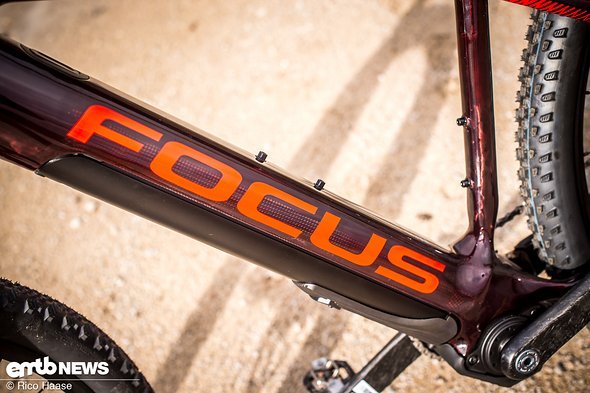 #
The voluminous downtube contains the...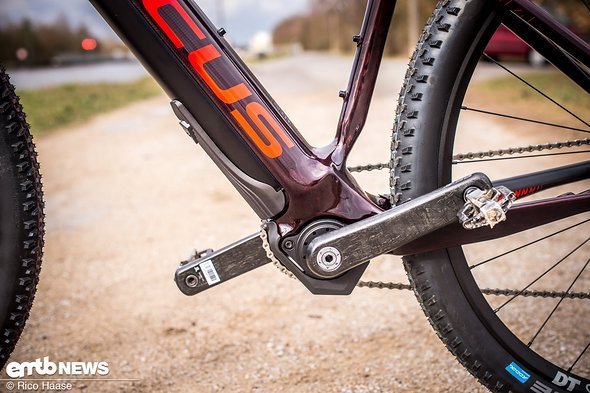 #
... cylindrical Fazua motor and battery. Seamless integration par excellence!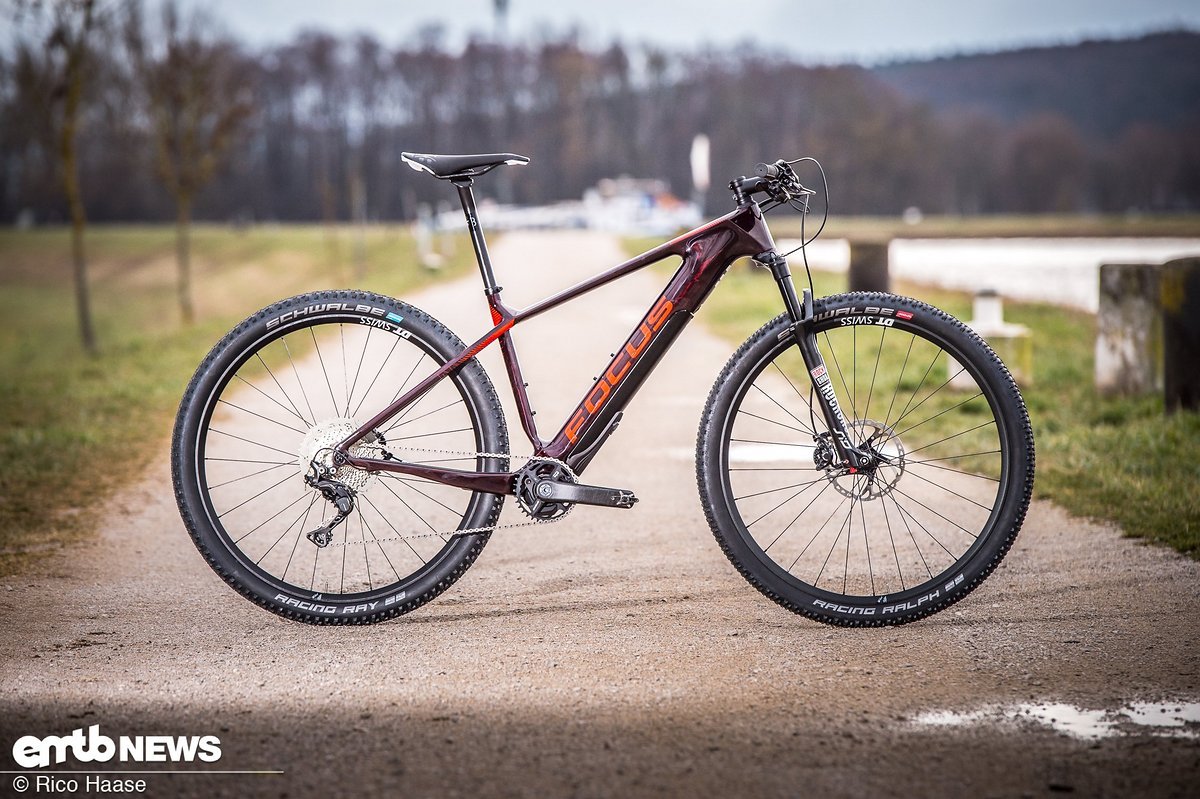 #
Focus Raven² 9.9
- Motor: Fazua Evation | Battery capacity: 252 Wh | Travel: 100 mm | Weight: 15.4 kg | Price: € 6999
---
Haibike Sduro Hardnine 9.0
A charmingly dangerous big cat.
Haibike designed the no-frill carbon frame of the Hardnine back in 2015. The battery sits semi-integrated in the downtube and has a 500 Wh capacity. This racehorse is powered by a Bosch Performance CX motor, that sadly tends to trip itself up above the 25 km/h assistance limit. You can find out how this E-Hardtail handles on the trail and whether it remains the alpha of the pack in our full review.
You can find our full review of the Haibike Sduro Hardnine 9.0 here (17.04.19).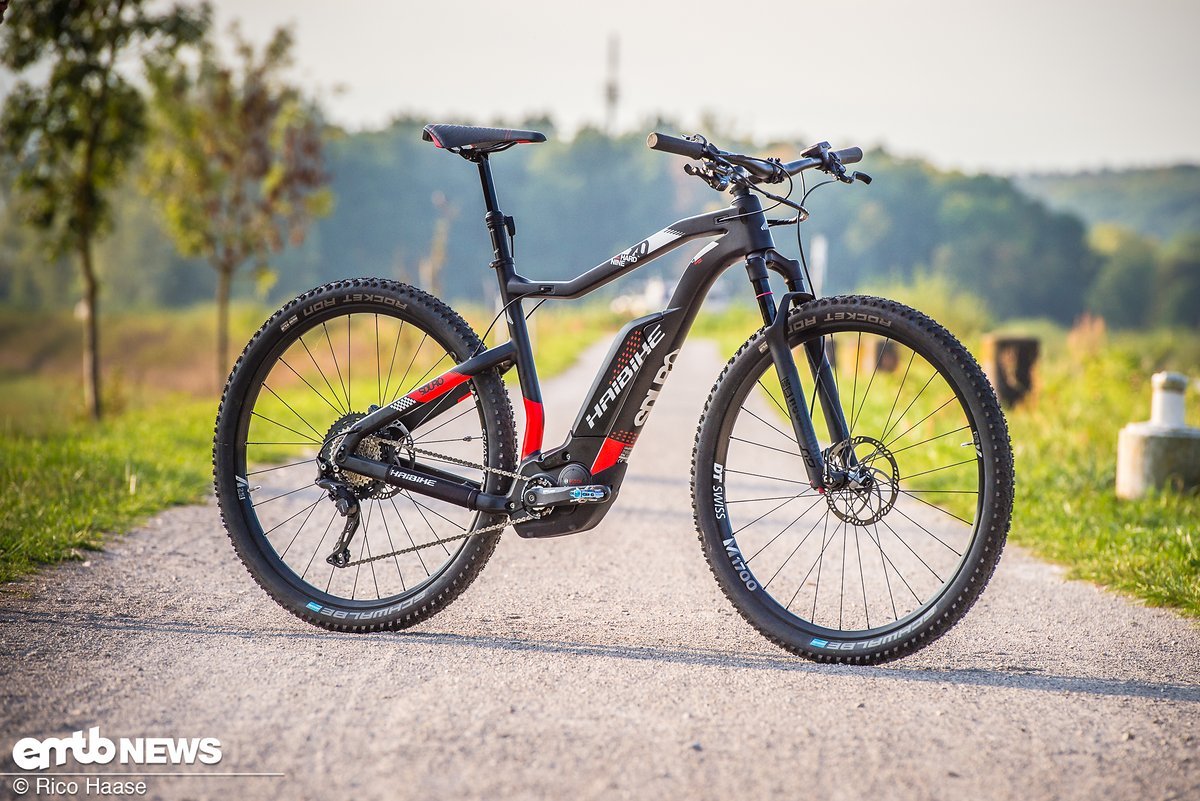 #
The design of the Haibike Xduro Hardnine 9.0 is fast and modern
- the low seat stays create a dynamic feel.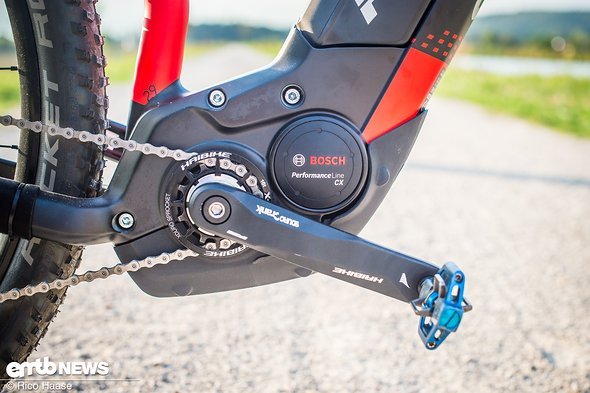 #
This E-MTB is powered by a Bosch Performance CX motor.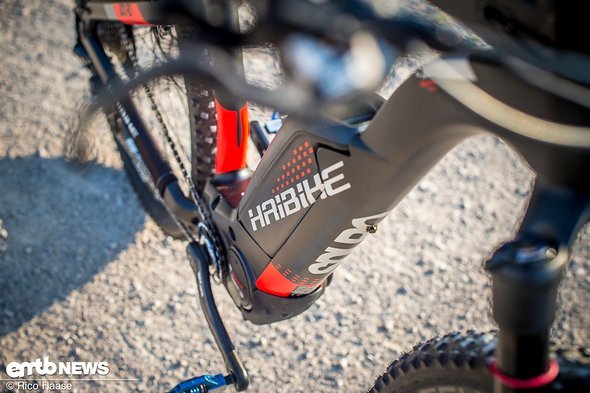 #
The Bosch PowerPack battery is semi-integrated
- and offers a 500 Wh capacity.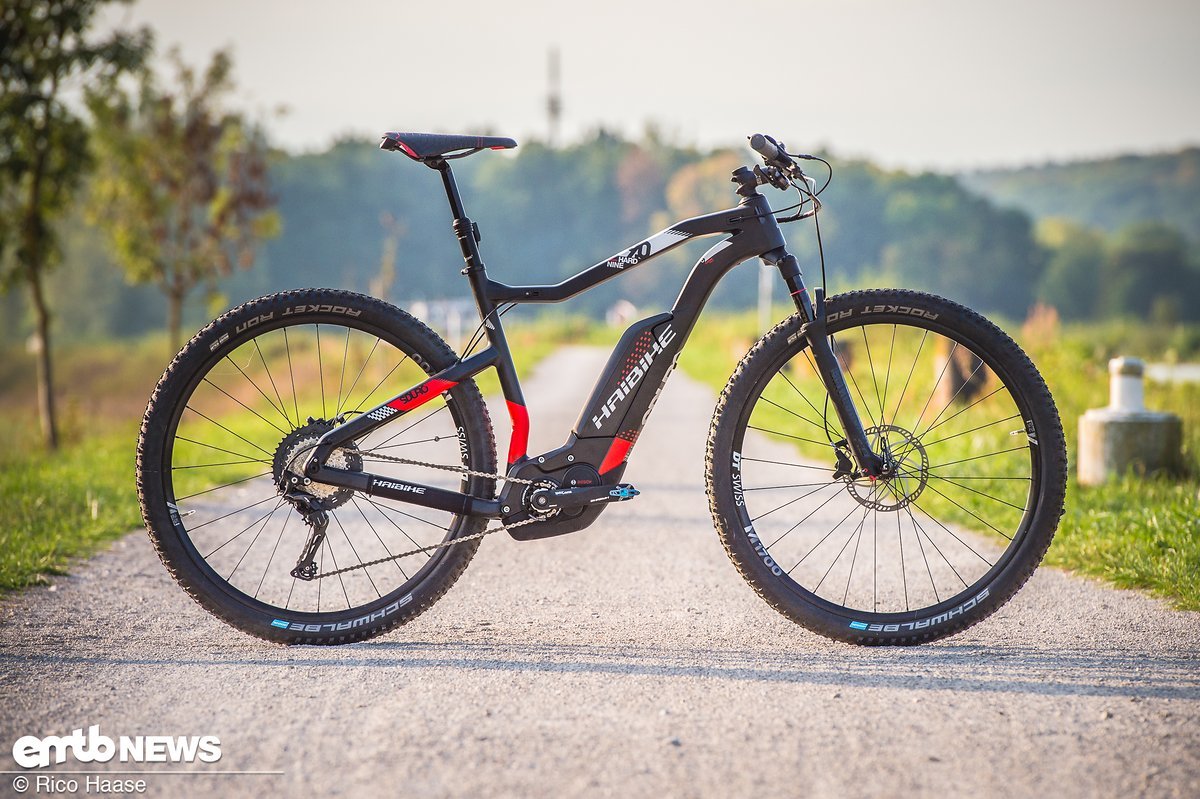 #
Haibike Xduro Hardnine 9.0
- Motor: Bosch Performance CX | Capacity: 500 Wh | Travel: 100 mm | Weight: 18.7 kg | Price: € 4999
---
Opinion @eMTB-News.de
First things first: E-Hardtails are fun, a lot of fun in fact. Yes, they aren't always as well-mannered and can buck like a bronco, but the propulsive efficiency coupled with the low weight quickly silences any naysayers.
If you're after a carbon frame and sleek lines, enjoy riding your E-Bike quickly and efficiently in proper cross-country style, then you should take a closer look at the models tested here.
---
About the test
Please expand for details
On our test runs, we usually stay in the highest assistance mode and drain the battery completely at least once. We then publish our results on our Strava account.
Our loop has everything we need to test what our E-bikes are capable of:
Tight uphill trails with roots, rocks and loam
Flat trails with small climbing sections
Fast and flowing downhills
Long gravel trails up- and downhill
E-bikes are subjected to our route multiple times to allow us to draw our conclusions.
We tested our two E-Hardtails  here:
On the trails around Bamberg, Germany. The riding provides narrow and tight trails with rooty, rocky sections, steep and technical uphills as well as flowing downhills.
This post is also available in:

Deutsch
Tester-Profil: Rico Haase
E-Enduro, E-Trailbike, Hardtail, Downhiller, Rennrad – mir macht jedes Bike Spaß. Egal ob mit oder ohne Motor, außer ich muss damit unendlich bergauf fahren – da mag ich Motorunterstützung schon sehr. Flowige Trails, gern auch gebaut, liebe ich. Ach ja, eins noch, ich hasse Spitzkehren.
I ride everything: E-Enduro, E-Trailbikes, hardtails, downhill, road – I enjoy it all, whether it's E-assisted or not. I'll admit that I do quite like having a motor on the uphills though. There's lots to love about flowing trails; natural or built. The only thing I hate – switchbacks.
Fahrstil

/ Riding style

Verspielt und flowig

/ Flowing and playful

Ich fahre hauptsächlich

/ I mainly ride

E-Enduro, E-Trailbike, aber auch XCO, DH und Road

/ E-Enduro, E-Trailbike but also XCO, DH and road

Vorlieben beim Fahrwerk

/ Preferred suspension setup

Straff und schnell – ich möchte wissen, was unter mir passiert

/ Firm and reactive – I like feedback from the trail

Vorlieben bei der Geometrie

/ Preferred geometry

Langer Reach, kurzer Vorbau, breiter Lenker

/ Long reach, short stem, wide bars
This post is also available in:

Deutsch
This post is also available in:

Deutsch
Tester-Profil: Oliver Sonntag
Am liebsten fahre ich Enduro, Downhill, Dirtjump, E-Enduro und Crosser – ich habe auf jedem Rad meine Gaudi. Primär geht´s mir um das schnelle Bergab fahren – ob im Bikepark oder auf selbst erklommenen Trails. Das E-Biken ist Neuland für mich aber macht mir ebenso mega Spaß. Unerreichten Spaßfaktor gibt´s für mich nur bei Rennen. Dabei findet man mich bei den meisten Enduro- und Downhill Massenstart Rennen. An jeder noch so kleinen Kante abziehen und das Rad in schräge Positionen zu manövrieren taugt mir ebenso ganz gut.
I like to ride Enduro, Downhill, Dirtjump, E-Enduro and Crosser – I have fun on every bike. My primary concern is to go fast on downhills – whether in the bike park or on self-climbed trails. E-biking is new for me, but it's also super fun. Unmatched fun factor for me is only in races. You can find me at most enduro and downhill mass start races. Pulling off on every small edge and maneuvering the bike in oblique positions is just as good for me.
Fahrstil

/ Riding style

schnell und aggressiv, doch immer mit einem sicheren Abstand zum Chargen

/ fast and aggressive, but always with a safe distance to charging

Ich fahre hauptsächlich

/ I mainly ride

Enduro

/ Enduro

Vorlieben beim Fahrwerk

/ Preferred suspension setup

hart und progressiv, langsamer Reebound

/ hard and progressive, slower reebound

Vorlieben bei der Geometrie

/ Preferred geometry

lang und flach, aufrechte Fahr- und Sitzposition

/ long and flat, upright riding and sitting position
This post is also available in:

Deutsch
🔽 Inhalte ausklappen 🔽
🔼 Inhalte einklappen 🔼
This post is also available in:

Deutsch