This post is also available in:

Deutsch
As part of our Urban special we've been looking at helmets with additional functionality that should be ideal for commuting and cruising. Along with an esoteric collapsible design and helmets with stylish looks, we've tried to select those that provide the best bang for your buck. Who hasn't found themselves here: the roads are dimly lit and a car is approaching from behind – you're not 100% sure that you've been seen. Additional lights on your helmet can only help improve your visibility, which is why we've selected the models for testing here.
Our recommendation for city-riding – smart helmets with extra functionality
We demand a lot from our helmets. They need to fit, provide adequate protection and look good too. It's important that your noggin doesn't overheat and the helmet has to look good too. If you're on your way to the office at the crack of dawn, it's nice to have extra functionality on top of that. When we selected the products for this test we wanted something with integrated lights to help increase your visibility in traffic. We also looked at models that are able to connect with your smartphone and can even play music during your ride.
These are the helmets we tested:
Torch T2
"Stylish during the day with increased visibility at night – what's not to like? The Torch T2 fulfils both requirements. The matte finish and futuristic looks come together in a stylish package. The integrated, visible LED panels significantly increase your visibility at dusk or night. Somehow, the Torch T2 just made us feel safer on the road.

This helmet is only available in one size (54-61 cm), but thanks to the adjustment mechanism it's adaptable to a wide range of head shapes."
Torch T2 Features
White lights at the front and red at the back – that's the main selling point of the futuristic looking Torch T2. Small pushbuttons activate the two light panels independently and let you set different light modes. These are constant, flashing and emergency patterns.
These are the most important features of the Torch T2:
LED panels front and back
Good fit
Nice matte-black finish
Good ventilation
Futuristic design
---
Nutcase Eclipse Black
"This is pretty cool. The fabric visor makes it look like I'm still wearing my baseball cap underneath. Thanks to the adjustable ventilation system, I can ride in a range of temperatures without overheating or being too cold on my e-Bike. A well thought out helmet with lots of style."
Nutcase Eclipse Black Features
If you're not commuting, do you like cruising around the city? That's exactly what the Nutcase Eclipse is for. Visually it's quite similar to a skateboarding helmet. In practice, with its extra features it offers everything you could need from a stylish e-Bike helmet.
Nutcase Eclipse Black Features:
Fabric visor emulated after baseball cap
CoolControl™ adjustable vents
Fidlock® magnetic closure
3M™ reflective straps
---
Specialized Centro LED
"Fit, ventilation, finishing – the quality is high which is what we've become accustomed to with Specialized products. It's nice to see a "normal" helmet with the advantage of extra illumination at the rear. An even nicer detail is that it can be locked along with your e-Bike using a D lock."
Specialized Centro LED Features
Here we have a helmet that looks like a modern mountain bike helmet, but with a few useful features added. Specialized have incorporated a small LED light that improves your visibility and hence safety on the road. In addition, the helmet is designed so that it can be locked directly to your E-bike using a D lock.
Here's what we like:
Great ventilation
Reflective details on the straps
Integrated rear light
Rear ventilation slots are D lock compatible
---
Lumos
"Harry Potter can just wave his wand and say "Lumos maximus". Unfortunately, you can't say a spell here and you'll have to press the button on the back of the helmet to turn the lights on. The easily controlled signal lights are pretty cool. The Bluetooth switch is easily mounted on your handlebars and lets you indicate which direction you're going in. The helmet is a little heavy though."
Lumos Features
A narrow LED band at the front is paired up with a large red LED triangle at the back of the helmet. The streamlined looks are backed up with a good fit and along with the usual white/red lighting you can also indicate lane changes or when you want to turn. The handlebar mounted switch lets you indicate left or right with a clearly visible arrow at the back of the helmet. We think this is excellent!
Some of the standout features are:
Integrated light
Bright and visible lights
Clear indicators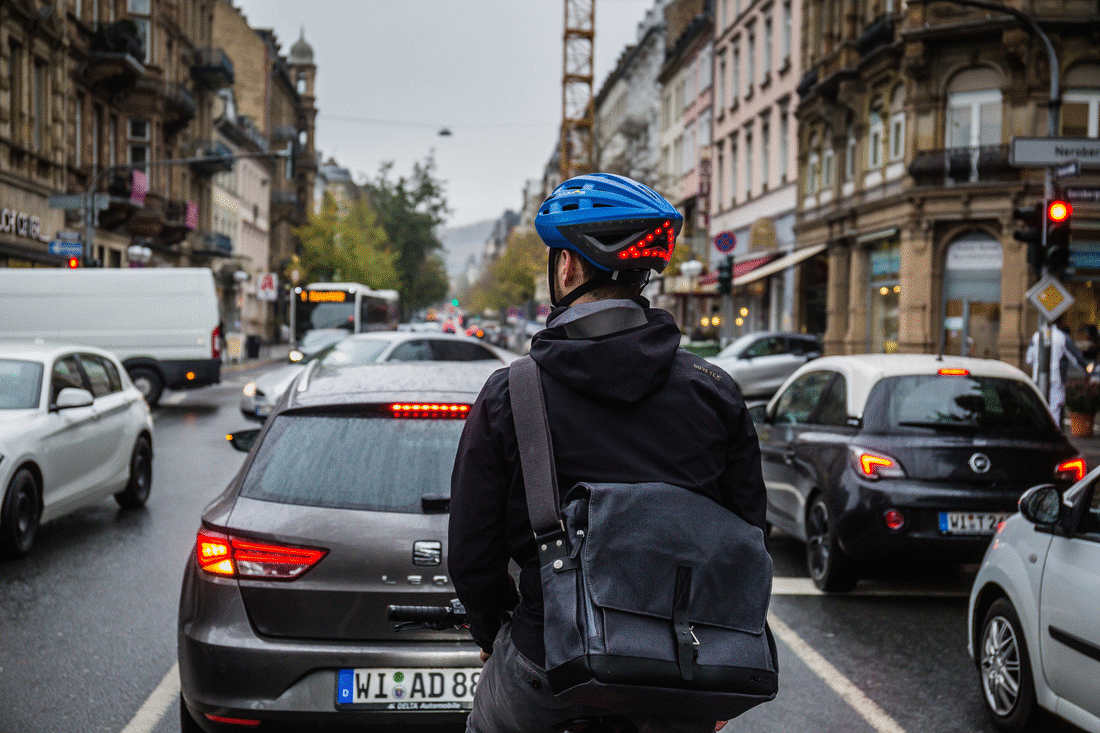 ---
Livall BH60
"If you like to stay at the forefront of technology trends you'll find everything you need with the Lival BH60. Bluetooth headset, indicators, lights, smartphone app and more. This helmet is your base of operations. Another great feature, if several people in your e-Bike group are using the helmet, then they can connect to each other allowing you to communicate without having to scream into the wind."
Livall BH60 Features
Give it a quick glance and you could be forgiven for thinking this is just a normal, sporty and well-ventilated helmet. The Livall BH60 very much fits current design trends. Look closer and you'll realise that there are a lot more features at work here, providing communication and entertainment options for the dedicated e-Biker. Connect the lid with your smartphone and you can listen to music through the integrated speakers. Thanks to the included headset you can even make hands-free calls from your bike. You can control various functions using the included handlebar mounted remote.
Standout feature: The Livall BH60 has a crash sensor built in. This sensor can identify impacts and sends out an emergency message in the case of an accident.
Key Features of the Livall BH60:
Integrated LED indicators
Flashing lights
Handlebar mounted remote
App for additional functionality
Speakers
Integrated headset
SOS crash-sensor
---
Closca Fuga
"Milan, Copenhagen, Frankfurt, New York – this is a helmet designed for urban metropoles around the world. This helmet feels and looks well-designed and exudes quality. The masterstroke: the helmet's volume can be reduced by about 50%. When you're not using it just collapse it and it will easily fit in your briefcase or bag. Pretty clever design – 10/10!"
Closca Fuga Features
Who hasn't been in this situation – a quick ride into town, maybe even a little shopping but what to do with your bulky, unwieldy helmet? That's where a collapsible helmet comes in handy. It looks good, provides protection and when you're not using it folds away. Along with the clever design, the Closca Fuga has a high-quality finish and looks rather like a dapper hat instead of an e-Bike helmet.
The Closca Fuga has the following key features:
Stylish
Collapsible
Lightweight
---
Opinion @eMTB-News.de
Thanks to new technology and stylish designs, with or without isn't a question anymore. Always take your helmet, there's no question. There's no excuses, if you're out on you e-Bike than take your helmet.

The models we've presented here show quite clearly the technology that can be integrated into modern helmets. Headsets, indicators, adjustable ventilation, thoughtful designs – every taste and use-case is catered for.
What kind of helmet do you use when you're on your way to work?
You can find all our other Urban Special articles here:

---
Further Information
Text & Edit: Rico Haase | eMTB-News.de
Pictures: Rico Haase, Thomas Paatz
This post is also available in:

Deutsch