This post is also available in:

Deutsch
Specialized Butcher Grid 2.8″: Tyres are one of the most fundamental elements of an E-Bike package. Since we started testing E-Bikes, we have always struggled with a good, reliable, cost effective tyre for the various off-road, sometimes extreme conditions we ride in. Specialized, as one of the first big companies producing high-end eMTBs, has realised this – so they went to work on developing their Butcher 2.8″ tyre format to meet the demands of E-Bike riders. We tried the new tyre on various E-Bikes in Punta Ala, Italy.
Inhalt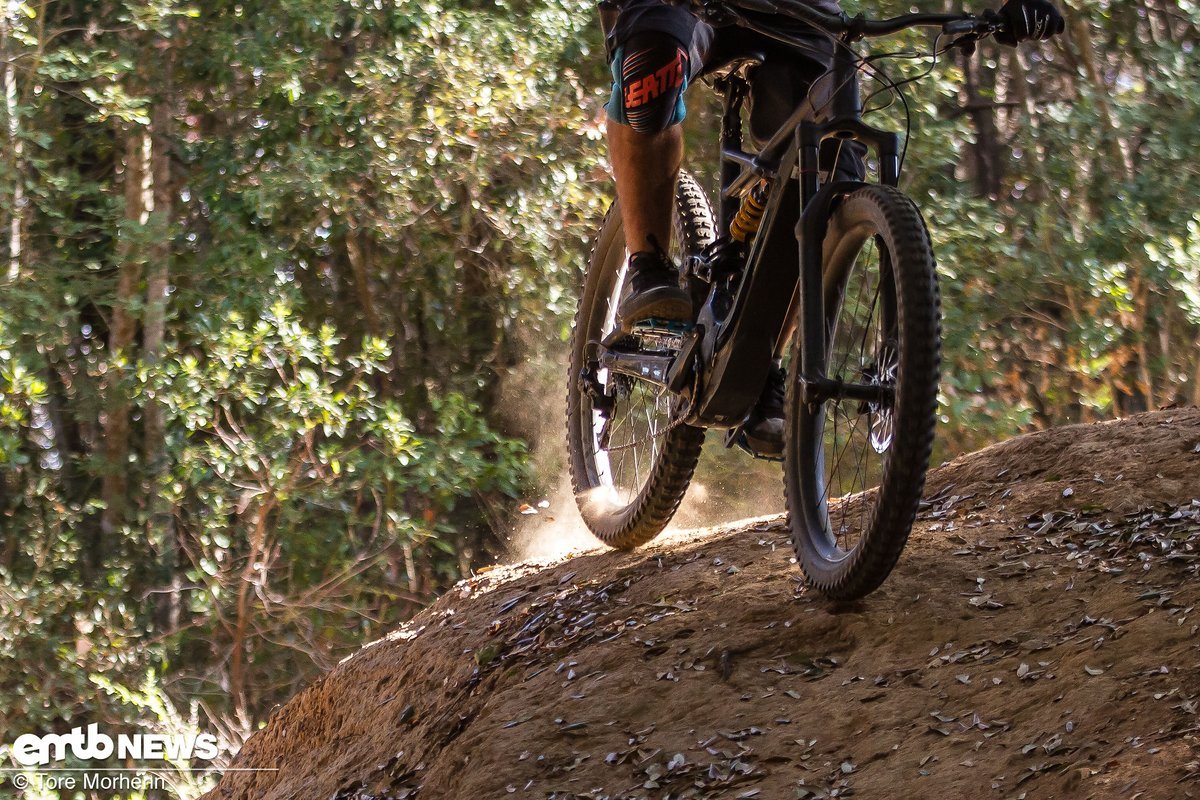 #
A plus sized tyre that works with an E-Bike
Specialized Butcher – In Brief
An ideal plus tyre for E-Bikes
Specialized have taken their considerable expertise in the bicycle market and invested in development of specific tyres for specific uses. The Butcher format, originally created for Downhill racing, has been extensively tested and reworked into the Specialized Butcher 2.8″ format plus size tyre, which is ideal for E-Bike use. Its robustness within the air chamber, sidewall construction and grip characteristics have finally given E-Bikers an excellent value, high-performance option that meets the often more extreme demands on the tyre due to increased system weights and speeds.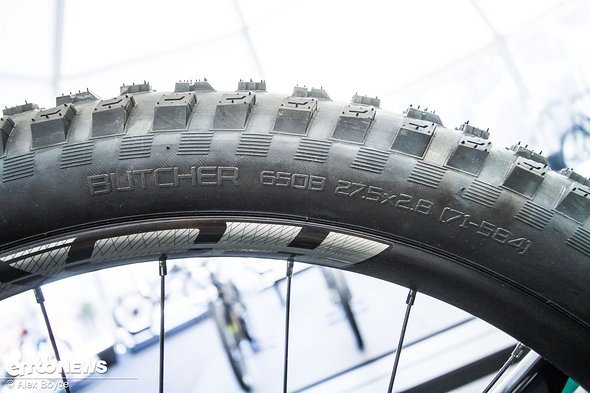 #
The numbers tell the story, these, on our measurements, are accurate.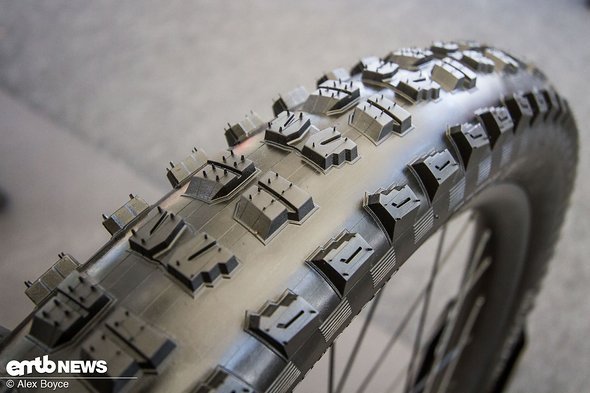 #
A close up of the side lugs and spacing – ideal for wet, loose or muddy conditions and hooking up on roots.
Specialized Butcher – Technical Data
Size: 27.5″ x 2.8″
Grid casing

More stable, stiffer sidewalls
23 % improved cut-resistance over "Control" model.

Gripton compound: top 42a, base 70a
2Bliss Ready (tubeless ready)
Folding bead
Improved vibration damping
Ramped centre knobs
Weight: 1,010 g (manufacturer information)
Price: 49,90 € / 60 $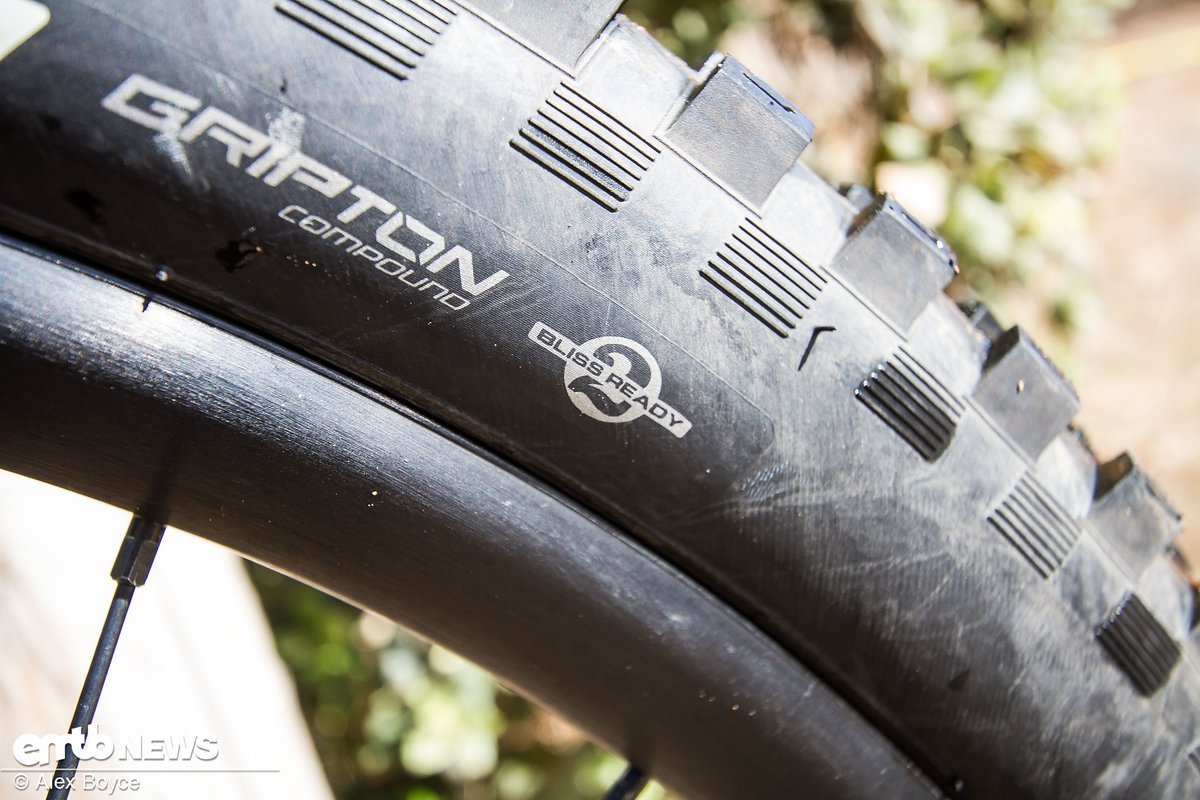 #
These tyres are tubeless ready and have Specialized's pretty soft Gripton compound as a basis.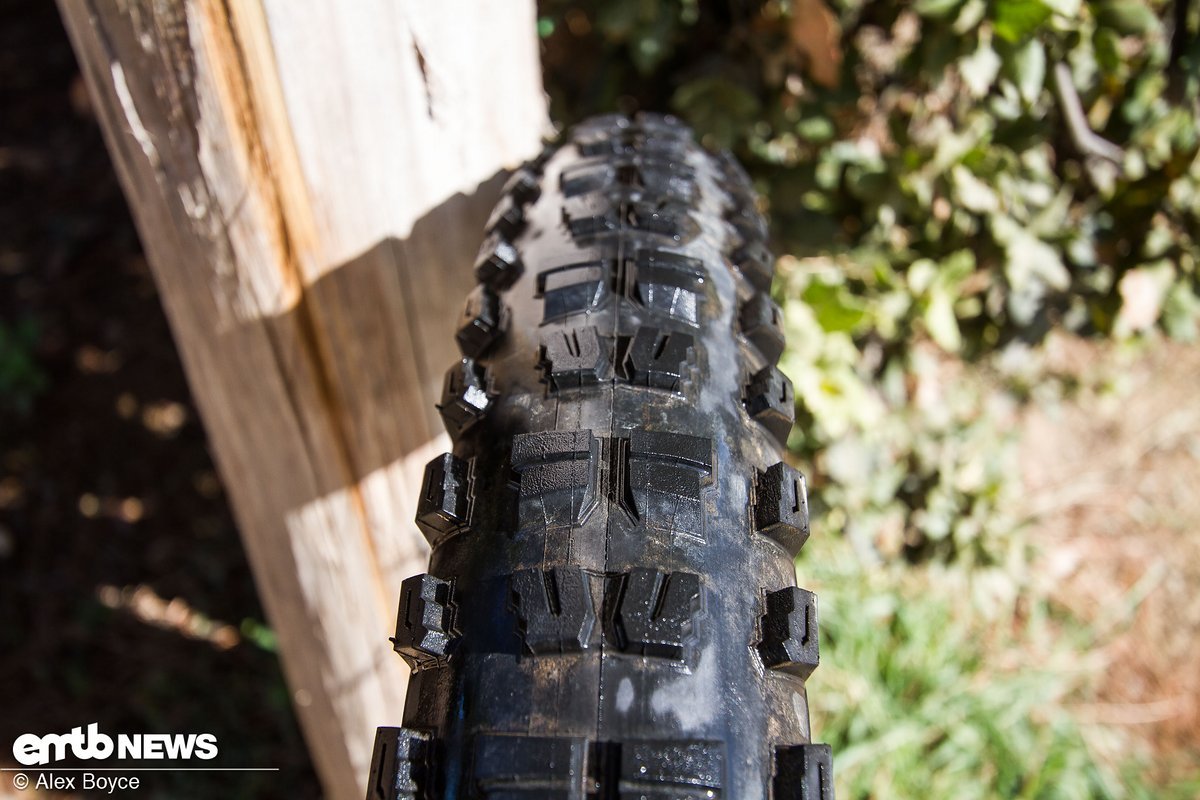 #
The tyre profile is a good compromise between square and round
Specialized Butcher – Hands On
Designed and built by Specialized
Specialized are very specific in their development process. The Butcher tyres have been developed from prototypes that are tested in the lab and on the trail by pro riders. Many tyre brands take their compounds from road-based tyres – the Specialized Butcher 2.8″ does not. It was developed for off-road use specifically.
We tested the Specialized Butcher with the Grid casing, Gripton compound and 27.5″ x 2.8″ size. In the hand the rubber feels much like any other tyre. However, when taking a closer look, the sidewalls are slightly thicker and have a more robust feeling rubber compound, giving a tyre, that has sidewalls that stand up more when needed. The height of the lugs is such that the tyre has a more squared form when mounted on the wider rims on our test bike, although not completely square. The centre lugs alternate in shape between pairs and singles and are for directional control and grip. The side lugs hang out quite far from the centre of the tyre and are spaced a fair distance from the centre lugs, ensuring adequate mud clearing characteristics. The sidewalls below these lugs have raised rubber profiles that provide extra protection from rock strikes.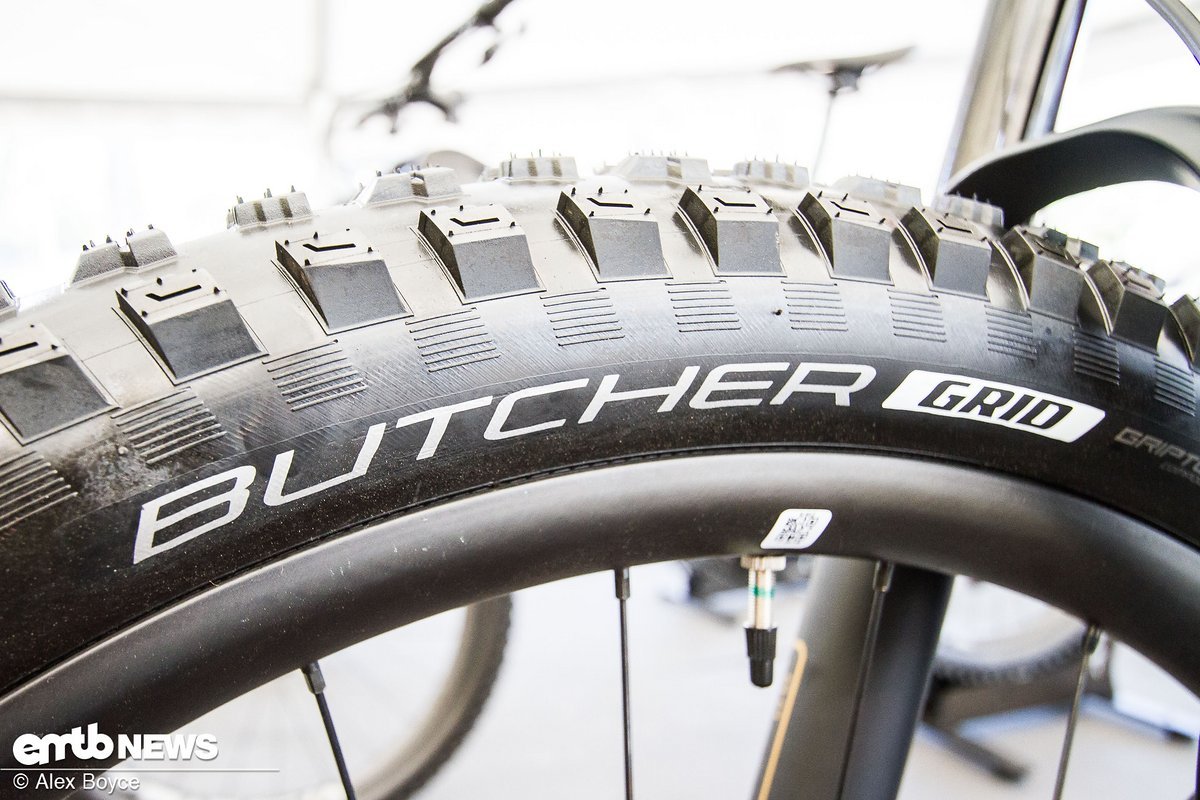 #
Sidewall reinforcements that protect from rock cuts are an essential feature in our opinion
Specialized Butcher – On The Trail
Trail
An ideal all-round tyre
The first thing we noted when riding away was the rolling speed. Despite the aggressive look to the tyre, we found our selves trucking along at quite a fast pace. Grip as you pedal is direct and there is no desire to want to be on softer ground. If the trail is hard packed, the tyre seems to transition between surface types very well. Consistency of feel is preserved.
When the trail becomes steep, the grip provided on wet and dry sections seems to be such, that the tyre does not break away or spin out of control. Apart from our main test sled, the Specialized Turbo Kenevo, we also tested the tyre setup on the Turbo Levo and took it on some more flowy trails around Punta Ala. This experience gave us confidence of the multi-use characteristics of the Specialized Butcher Grid.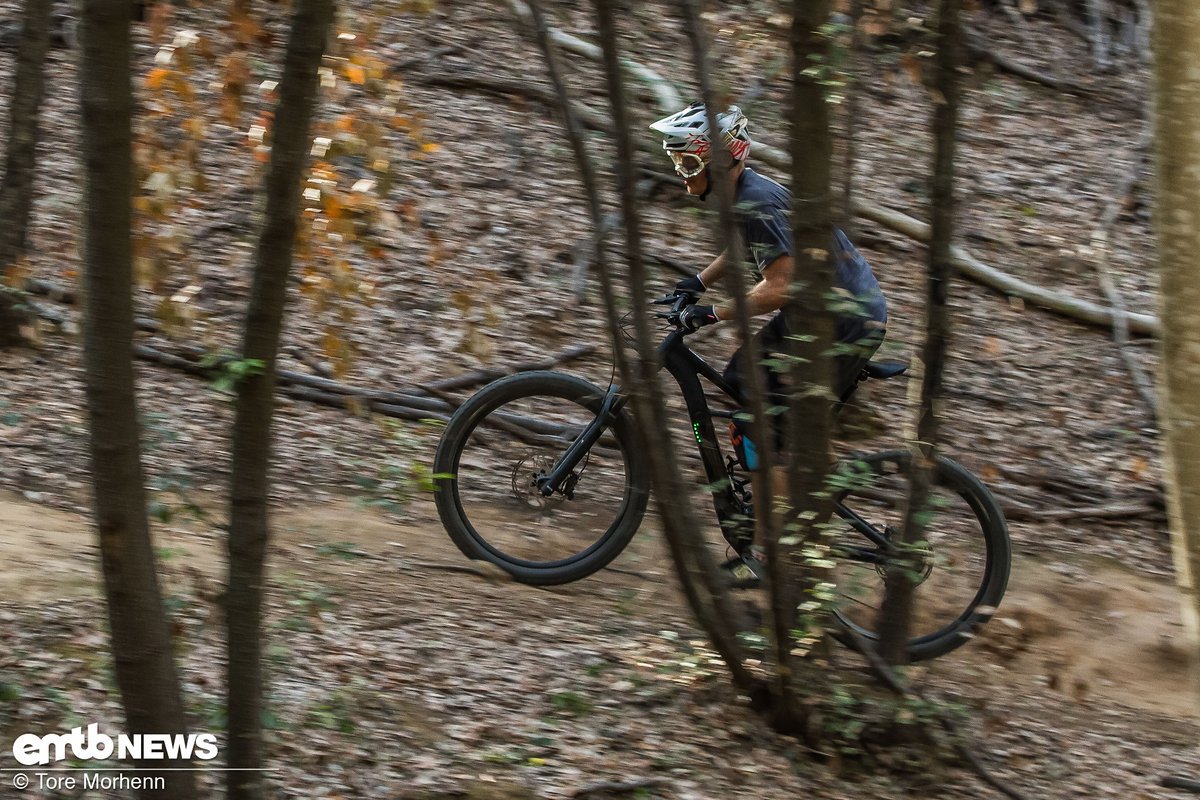 #
The Specialized Butcher Grid is a fast rolling tyre.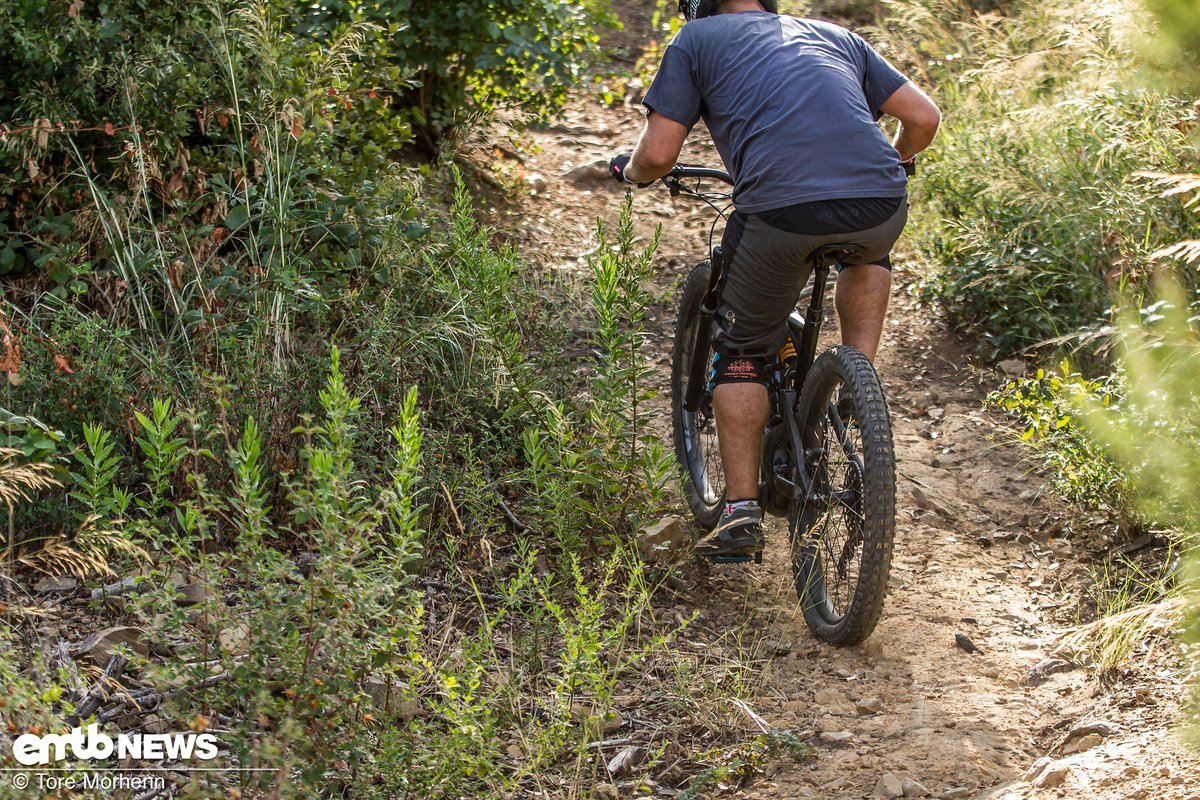 #
Uphill we found the spin control to be excellent
- we didn't feel the tyre breaking away even on loose ground.
Downhill
Cornering fast with the Butcher is fun.
Downhill performance and cornering are the two characteristics that have been lacking on E-Bike tyres. The plus format often leads to a more bouncy setup – especially if the pressure is wrong. Normally the pressure needs to be held high enough to stop the tyre collapsing and squirming when high side load stresses are applied. With our rear pressure at about 1.2 bar, we found cornering to be reliable and stable. The grip was immense and the tyre as we cornered was predictable – it didn't collapse under us. We dropped the pressure to 1.1 bar and got to what we would call an acceptable limit. Even when we burped the tyre, and we had that feeling of less directional stability, the ride was predictable.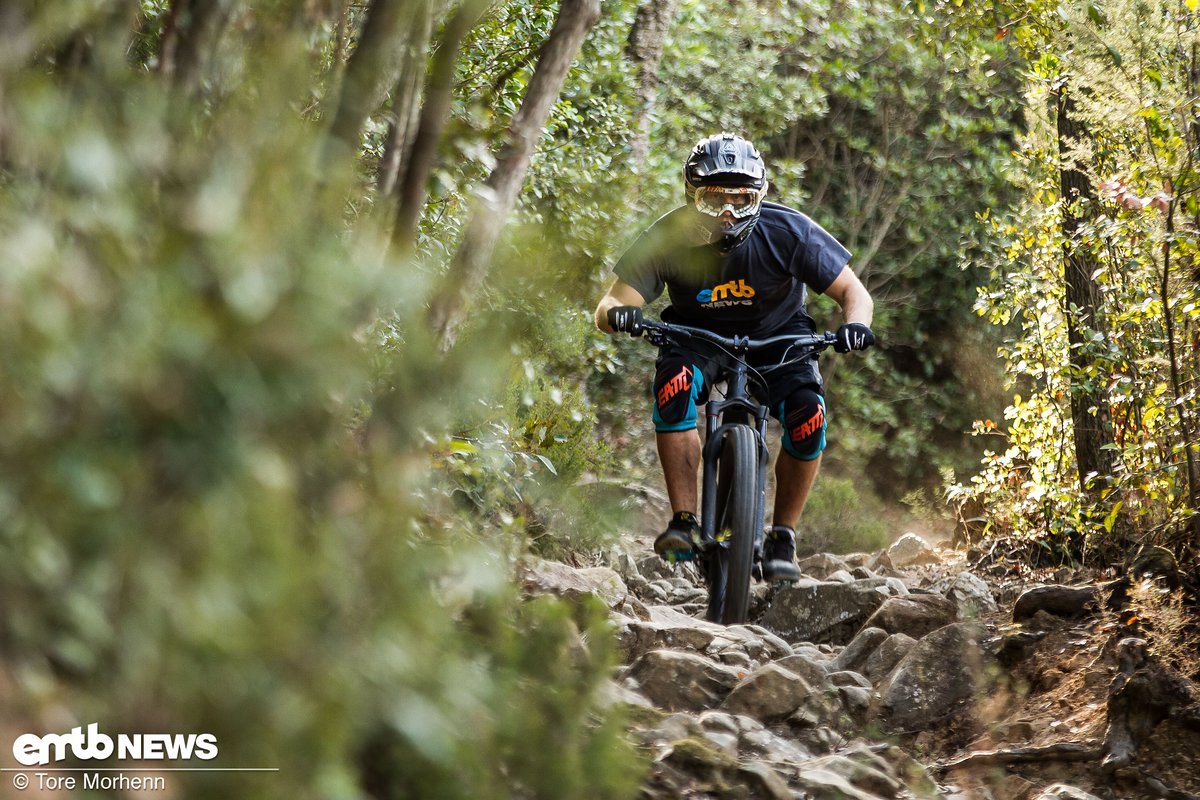 #
In this environment the Butcher stands up well to the harsh rock strikes and grips well.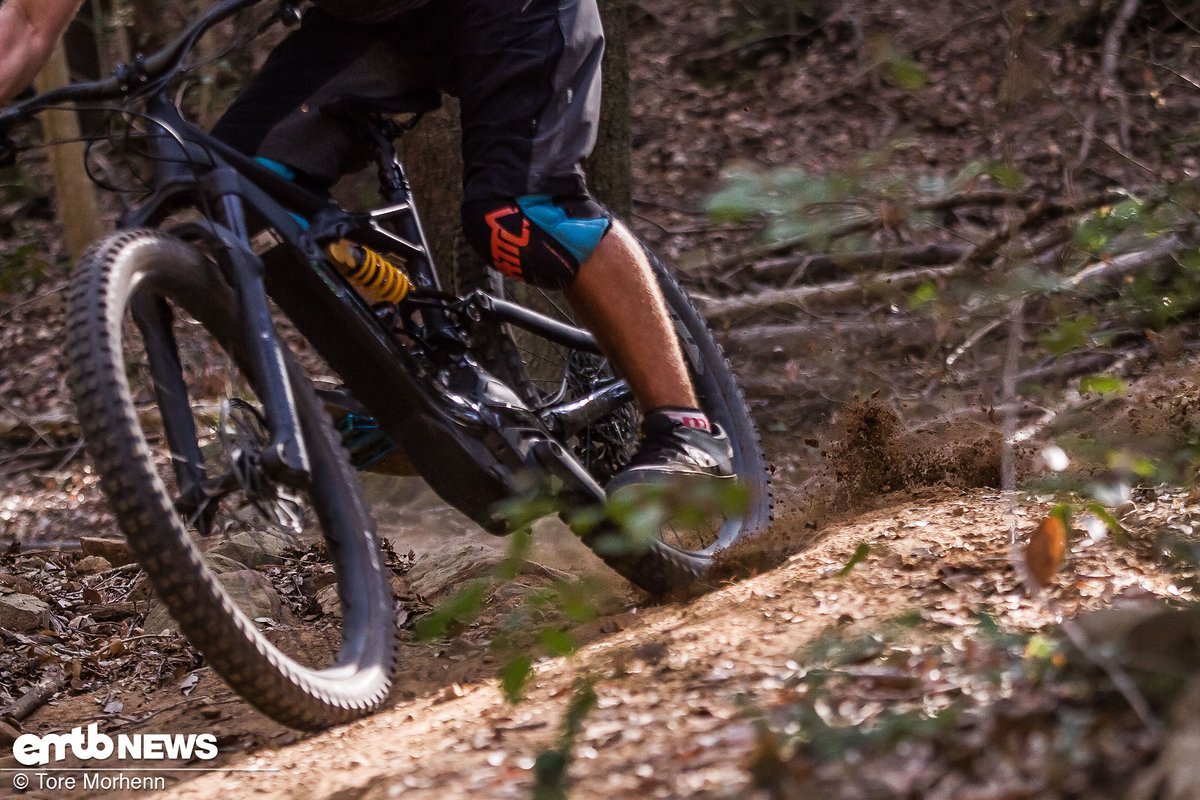 #
Cornering on soft ground is class leading.
The side lugs provided one of the most predictable cornering characteristics we have experienced on an E-Bike tyre. The surface varied between roots and loose soil or rocky, loose gravel. In these conditions we felt that we could approach the limit calmly. Whatever Specialized have done – we are impressed! Although we didn't get to try them in the extreme wet, we did feel that on damp, rooty surfaces they gripped exceptionally well. Again giving us that feeling of predictability, something that has been lacking in many tyres that we have used on E-Bikes – especially as we increase speed or trail conditions worsen. We also didn't notice any damage to the tire or rim, when riding in very rocky terrain with low pressures, or any unusual wear during our few rides.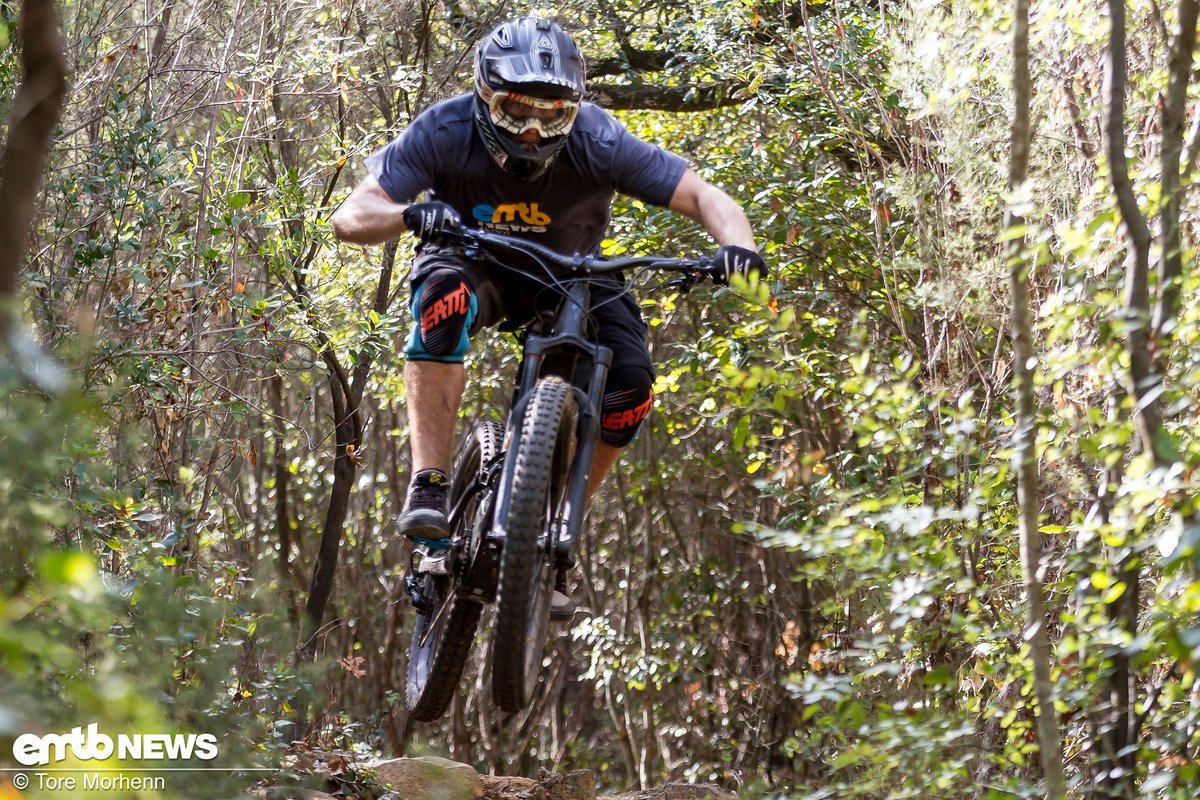 #
The Specialized Butcher is very predictable at speed
- pop off roots and land with confidence
Conclusion – Specialized Butcher
We found the Specialized Butcher Grid 2.8″ tyre to be a standout product – thanks to its stability, grip, great all-round characteristics and good value. Whatever we threw at the Butcher, we were left satisfied by a consistent, controlled and reliable riding response, that has been lacking on pretty much all the plus tyres we have used to date. The downside is that, unless you buy these after market or own a Specialized E-Bike, this tyre is not going to be found that frequently.
Pro
Strong sidewalls
Predictable cornering
Value for money
Cons
Not found easily outside of Specialized stores.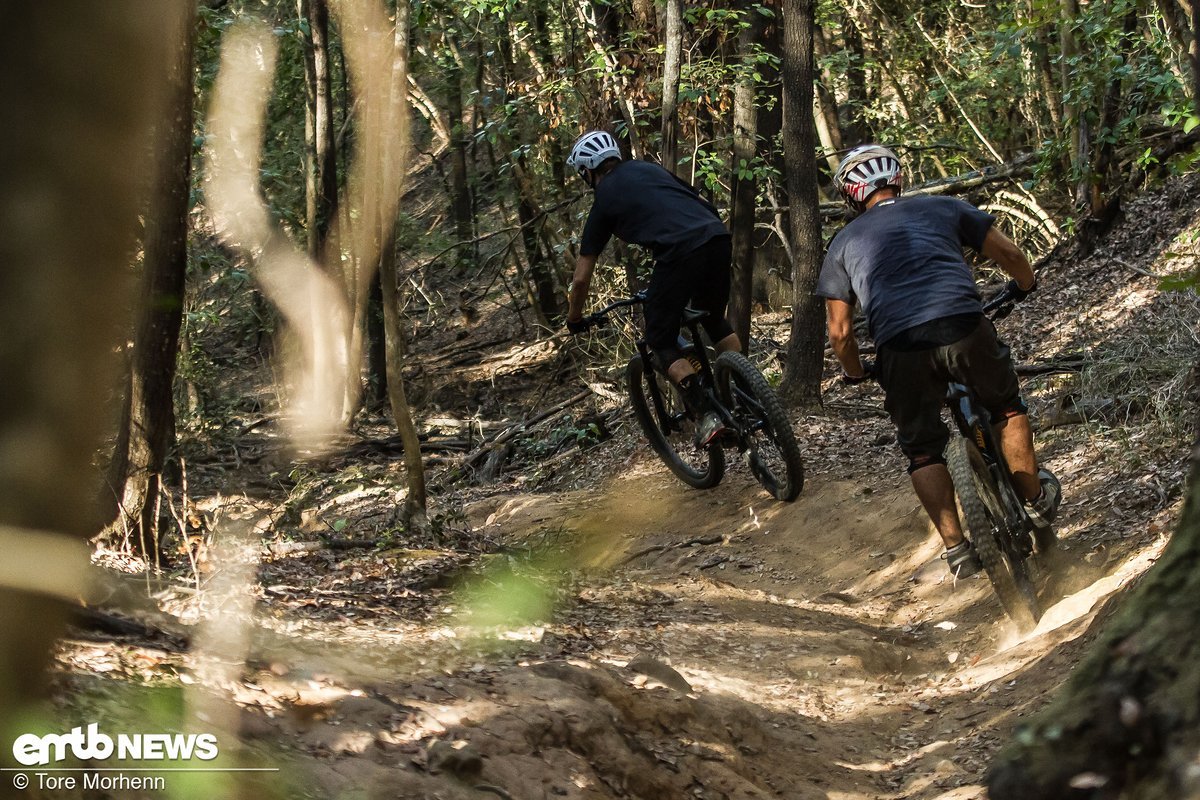 #
Unfortunately, it won't be a tyre found everywhere due to it being a Specialized branded product. However, don't let that stop you finding a pair and mounting them.
Testing Procedure
Location: On the trails of Punta Ala, Italy, on rocky, flowing, damp, rooty, dusty and loose conditions. We spent a lot of time on some very rough and rocky downhill style trails on board the Specialized Kenevo as well as flow trails on board the Levo.
Tester-profile Alex Boyce
Tester-profile click to expand
Name: Alex Boyce
Height: 183 cm
Weight (with riding-gear): 95 kg
Inside leg: 88 cm
Arm's length: 69 cm
Torso: 67 cm
Riding style: soft, jumps preferred, every terrain, Uphill in turbo-mode
What do I ride mainly: E-Bike, Enduro, Gravel.
Preferred suspension: Responsive and direct steering, Plus-Tires
Preferred geometry: Wide bars (800 mm), long frame, chainstays mid-length
Do you use after market tyres or just the ones your E-Bike came with?
---
Further Information
Website: www.specialized.com
Text & Edit: Alex Boyce | eMTB-News.de
Photos: Alex Boyce, Tore Morhenn
This post is also available in:

Deutsch