This post is also available in:

Deutsch
The new Schwalbe Eddy Current tyre has been designed specifically for E-Mountainbikes. It's now made its first official appearance at Eurobike 2018.
Schwalbe Eddy Current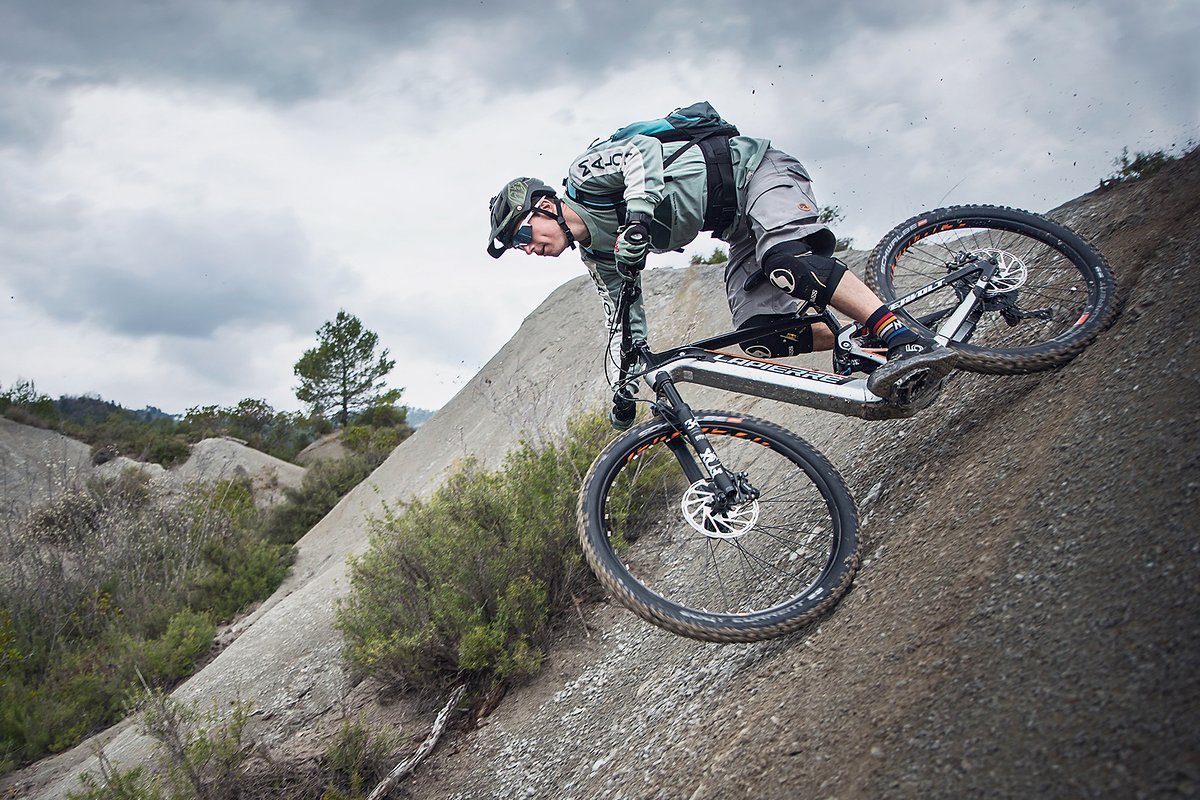 #
The new E-Bike specific Schwalbe Eddy Current promises to offer great performance for E-Allmountain and Enduro riders
Large knobs and a sturdy casing
The Schwalbe Eddy Current is the first model from the tyre specialist that has been specifically designed for E-Allmountain and E-Enduro Bikes. Featuring different tread profiles for the front and back, the front tyre has been profiled for good grip and precision in the corners, whilst the rear tyre is designed to generate traction — the profile actually reminds us of a motocross tyre. Both tyres are built around Schwalbe's Super Gravity casing with supersoft Addix rubber. Not good for tarmac, but perfect for huge amounts of grip on the trail.
Schwalbe Eddy Current key facts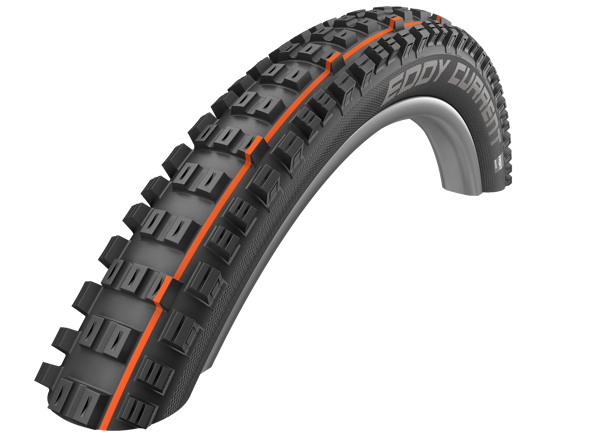 #
The raised shoulders should improve cornering traction and performance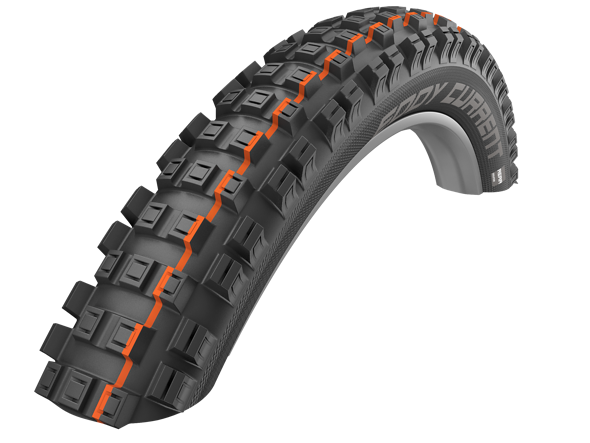 #
The voluminous Eddy Current Rear has taken some inspiration from motocross tyre treads to generate lots of traction
Large tread blocks: The knobs are roughly 20% larger than those on the Magic Mary. That improves stability, increases traction and aids durability. It should also help avoid any tyre squirm giving a direct and precise feel.
Addix Soft Compound: This compound offers the best performance for the Eddy Current. The soft rubber and profile work very well together. The excellent grip and good damping of the shoulder knobs provide good control, while the centre tread rolls well and appaers to be durable despite the high loads induced by E-Bikes.
Super Gravity-Karkasse: Schwalbe has equipped the Eddy Current with its most sturdy casing. Five layers under the tread and four in the sidewalls result in a reliable and puncture resistant tyre.
"An E-Bike weighs between 22 and 25 kg and produces up to 120 Nm torque which is almost as high as a motocross bike. Because of those operating condition, we've taken some inspiration from trials and motocross tyres. That includes the stable knobs, increased amount of rubber and wider casings" Carl Kämper, Junior Product Manager for MTB Tyres
It's interesting to see the front and rear specific tread patterns. The knobs are up to 20% larger than on other enduro/all mountain tyres and have an aggressive profile. The open tread design should clear mud easily and the raised shoulder blocks are intended to improve cornering performance. The large tread blocks on the rear tyre are designed to deal with the increased power provided by a motor whilst remaining durable.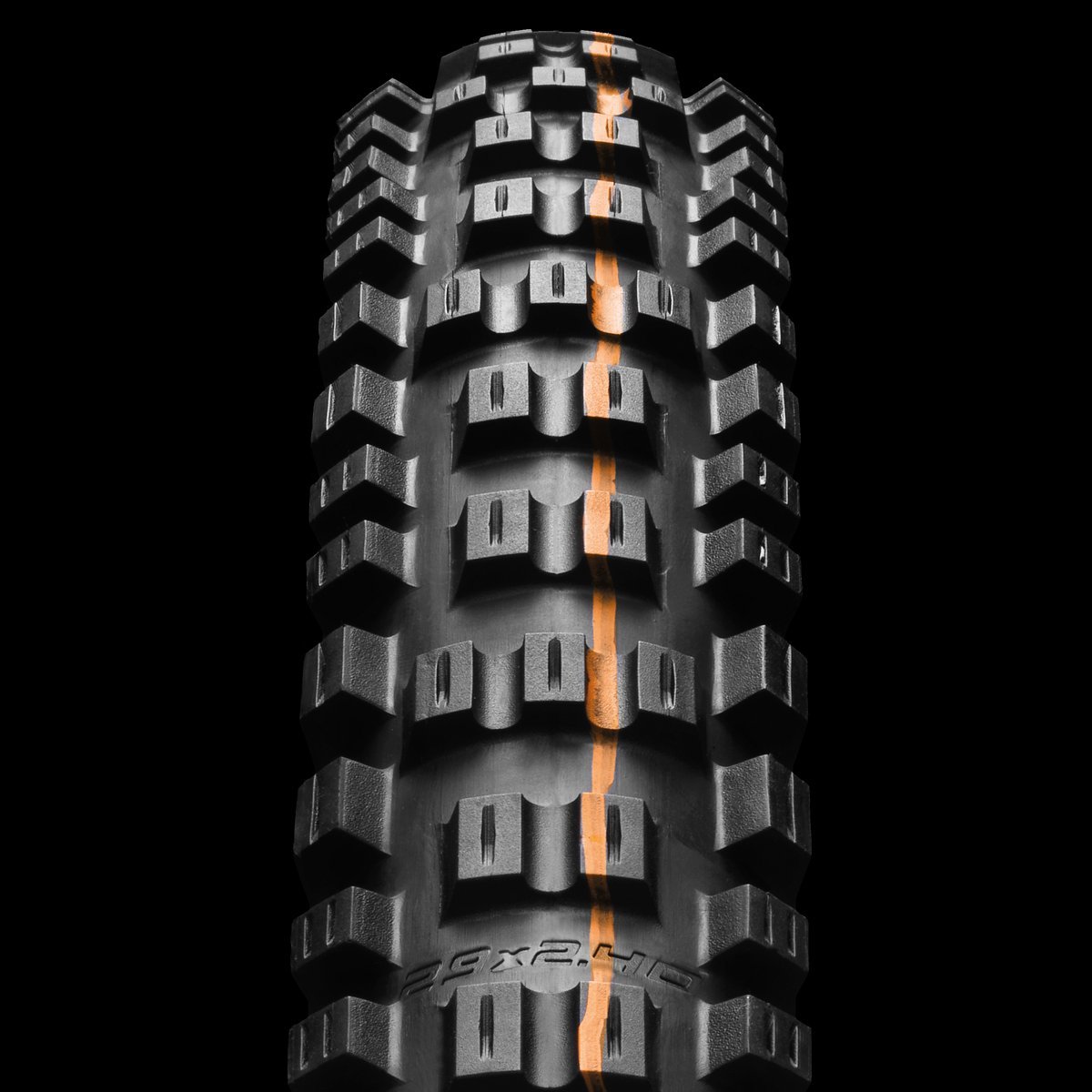 #
Schwalbe Eddy Curren Front
- the tread is designed to offer great cornering grip and precision. Prices from € 62,90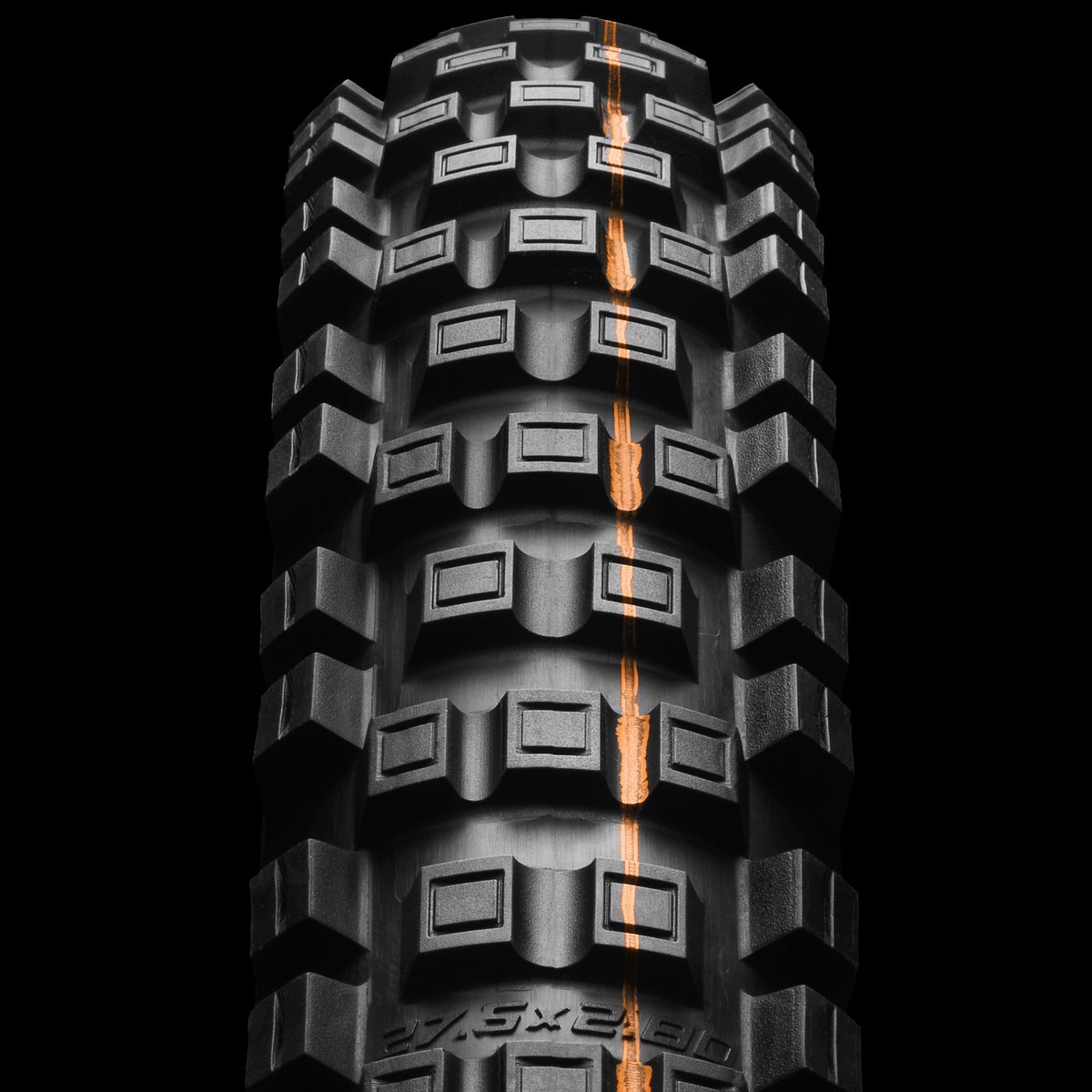 #
Schwalbe Eddy Current Rear
- 2.8" wide and a chunky tread for great traction. Prices from € 67,90
The Schwalbe Eddy Current will be available in autumn. Price: € 62,90 (Size 62-622) and € 67,90 for plus-sized tyres (65-622, 70-584).
Available sizes
Schwalbe Eddy Current Front
27,5″ x 2,80
29″ x 2,40
29″ x 2,60
Schwalbe Eddy Current Rear
One extra tip: Schwalbe has a new website that has all the details on its E-Bike specific tyres. You can find the details on www.e-biketires.com here.
Opinion @eMTB-News.de
The Schwalbe Eddy Current concept is innovative and well-conceived. It makes a lot of sense to have specific tread patterns for the front and rear tyre, because each tyre needs to perform in a certain way. Further translating this to mismatched wheel sizes front and rear (29" and 27.5" +) makes a lot of sense to us.
The pronounced tread promises to provide both improved grip and traction along with improved durability. We'll be testing that out for ourselves soon.
What do you think of the new Schwalbe Eddy Current? Whats your preferred tyre brand?
---
More news from Eurobike 2018
This post is also available in:

Deutsch