This post is also available in:

Deutsch
Cube eBikes 2018: now in its third year, the Cube product launch presents the new range for 2018. Cube, the biggest German bike and eBike manufacturer, are hosting their in-house Dealer Days in Bavaria between 24th July and 31st August for dealers and industry professionals. These provide an impressive overview of the broad and comprehensive Cube portfolio. We were there to get the scoop and low-down for you.

Cube-Product-Launch-2018 – In Brief
The exhibition area was finished last minute
The launch took place on one of the old factory floors at Cube HQ, with more than enough space to display the huge range on offer for 2018. Cube have worked incredibly hard and are presenting an almost incomprehensible number of bikes. They continue their partnership with Bosch for their motors and are now using both the established PowerPack along with the new integrated Bosch PowerTube batteries.
Cube will be here for just under 6 weeks presenting the new range to dealers and distributors, explaining new features, guiding test-rides, cleaning exhibition bikes and answering a multitude of questions and queries. The range is exhibited effectively – encompassing not just bikes and ebikes, but also accessories including clothing, rucksacks, shoes and helmets. Visitors gain an impressive insight into the complete product portfolio.
If you're interested in reading more about the non-powered Cube range, you can find more information here.
Quick Facts – A summary of this year's developments
Carbon- and aluminium frames with Bosch's integrated PowerTube batteries
New, updated geometries
Modern graphics and paint-jobs
Optional dropper-post
eRoadbike with Fazua motor
New helmet developed in-house
New shoes and rucksacks
We especially like the Cube dropper-post upgrade option, which you can specify for an additional €199,95. The cables come pre-fitted, making installation quick and easy for your dealer.
Cube Stereo Hybrid 160 Action Team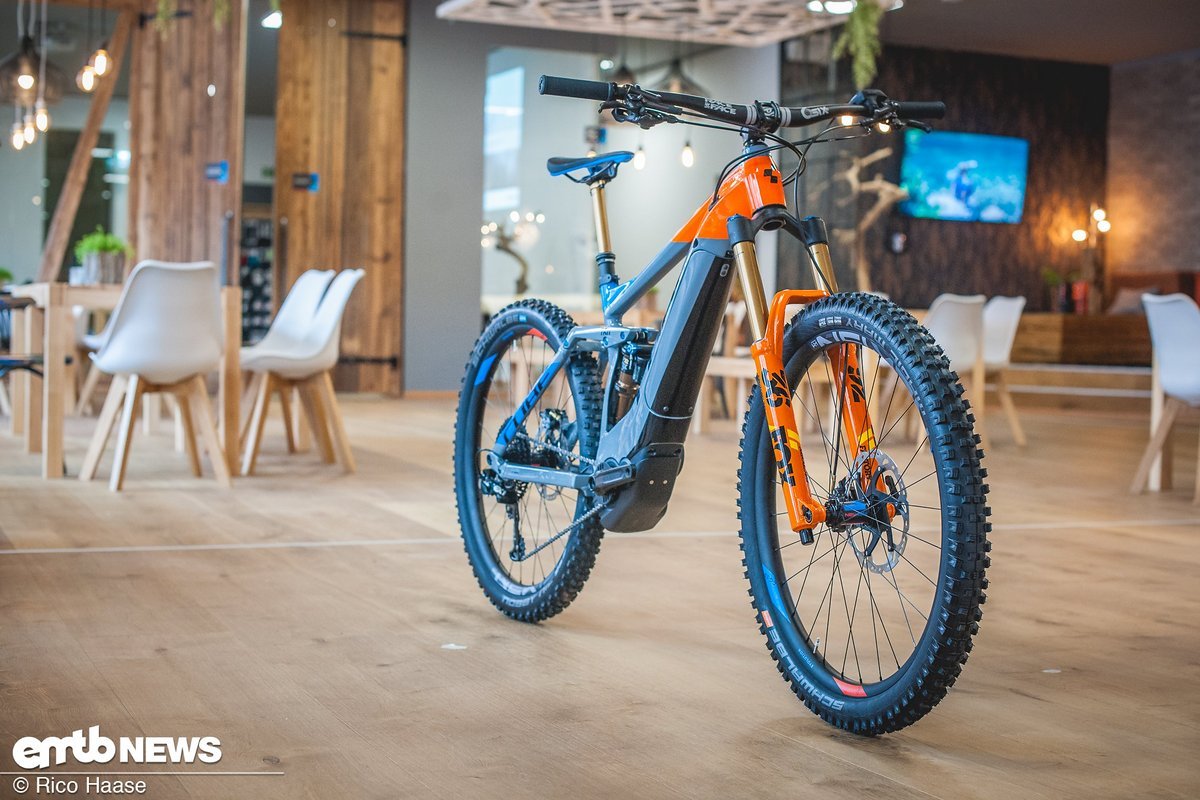 #
The Cube Stereo Hybrid 160 Action Team
We've known for a while that Cube's Action Team is training on eMTBs and using them at several Enduro events. For 2018 Cube have introduced a no-holds-barred eMTB designed for all out performance. A long wheelbase, decent reach, a more progressive suspension design, top end Fox suspension, burly Newmen wheels, Schwalbe tires using the SG compound and a striking paint-job all scream speed. The Fox 36 forks have 170 mm of travel with 160 mm out back; more than enough to ride this eMTB quickly and aggressively.
We were drawn to this bike immediately. Not only does it look good, but after a very muddy test ride it turns out that it handles well too. Based on the spec alone this bike is a highlight of the range. It will absolutely shred the trails and should help expand the already large Cube fan-base.
Price: 5.799 €
Cube Stereo Hybrid 160
The 160 Hybrid Models have been updated with new geometries, a more progressive feel out back and a longer reach. Whilst some models feature the new PowerTube battery, Cube is also sticking with the established PowerPack for a number of reasons. It's a proven and reliable technology, customers are used to its looks and it's more than likely that there are already a few spare PowerPacks sitting at home.
Cube is releasing 2 models. These will be € 3999 with the OnTube battery and € 4499 with the PowerTube battery respectively.
Cube Stereo Hybrid 140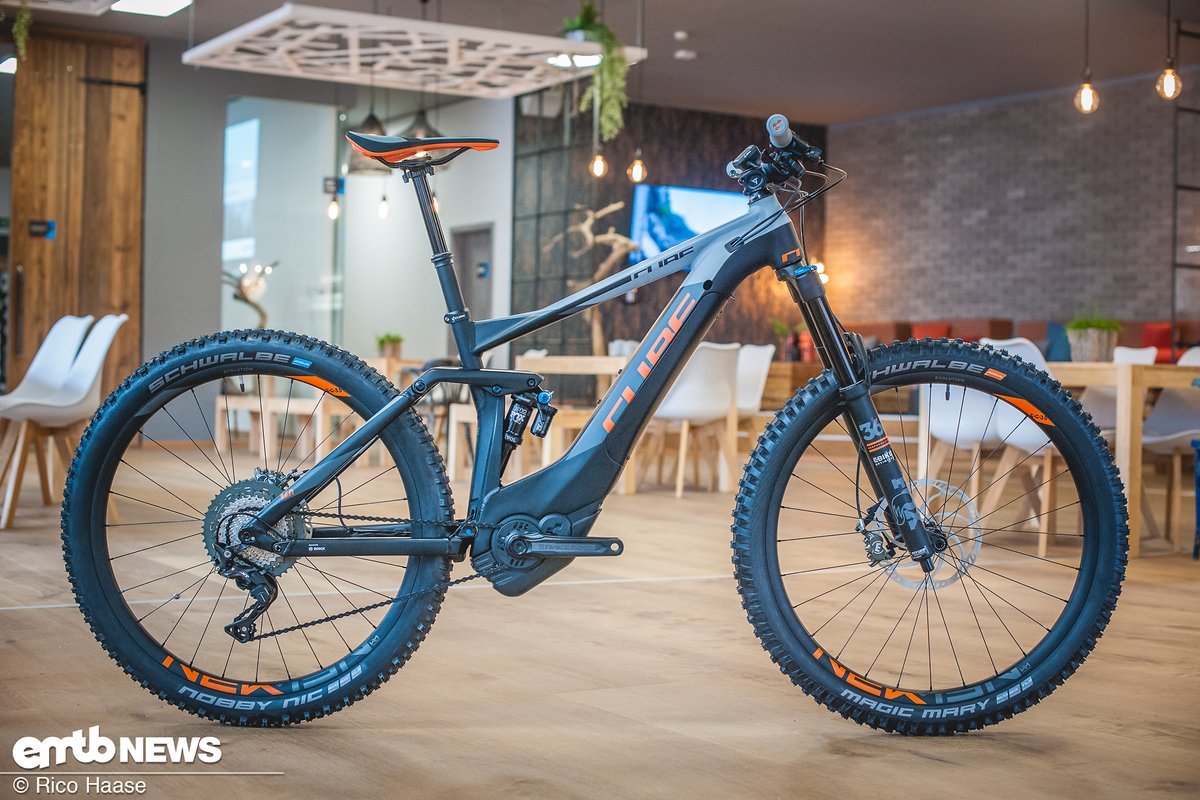 The Hybrid 140 platform will remain unchanged in terms of geometry. However, componentry and spec has changed slightly and some models now use the integrated PowerTube battery.
Cube is releasing 6 different models, one of which particularly caught our attention. The Stereo Hybrid 140 TM 500 27.5. This eMTB has a great spec and its suspension should make for an agile and playful trailbike. This bike looks great with a high quality paint job. There are no plus tires to be found here, just accurate and precise 2.6" Schwalbe tires. This model will cost € 4799.
The cheapest model, fitted with a PowerTube battery, will start at € 3499.
Cube Stereo Hybrid 120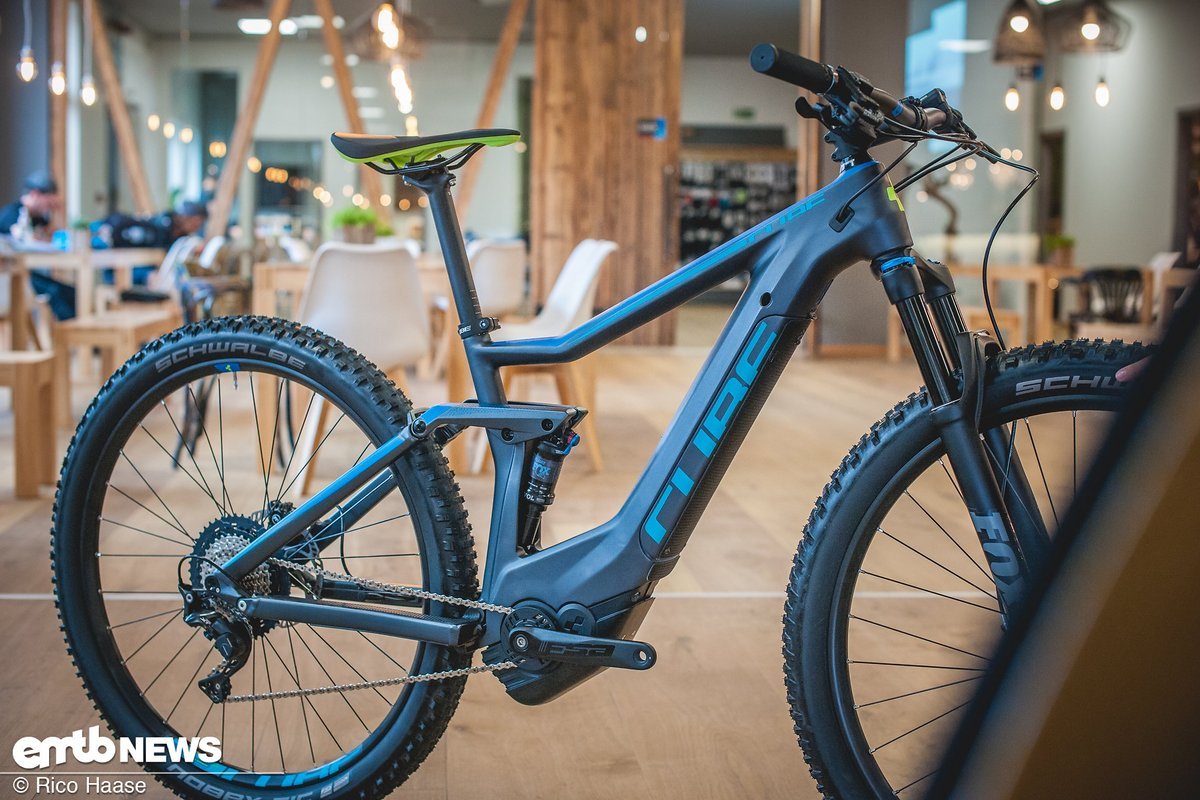 Cube have nine different models in this range. The bikes have 120 mm of travel and the geometry has been updated to be more comfortable. The longer headtube encourages a more comfortable and upright riding position which should find favour with a number of riders. All these models come with a fixed seatpost which can upgraded with the optional Cube dropper post.
Prices start at € 2999 and go up to € 6499.
Cube Elite Hybrid C:62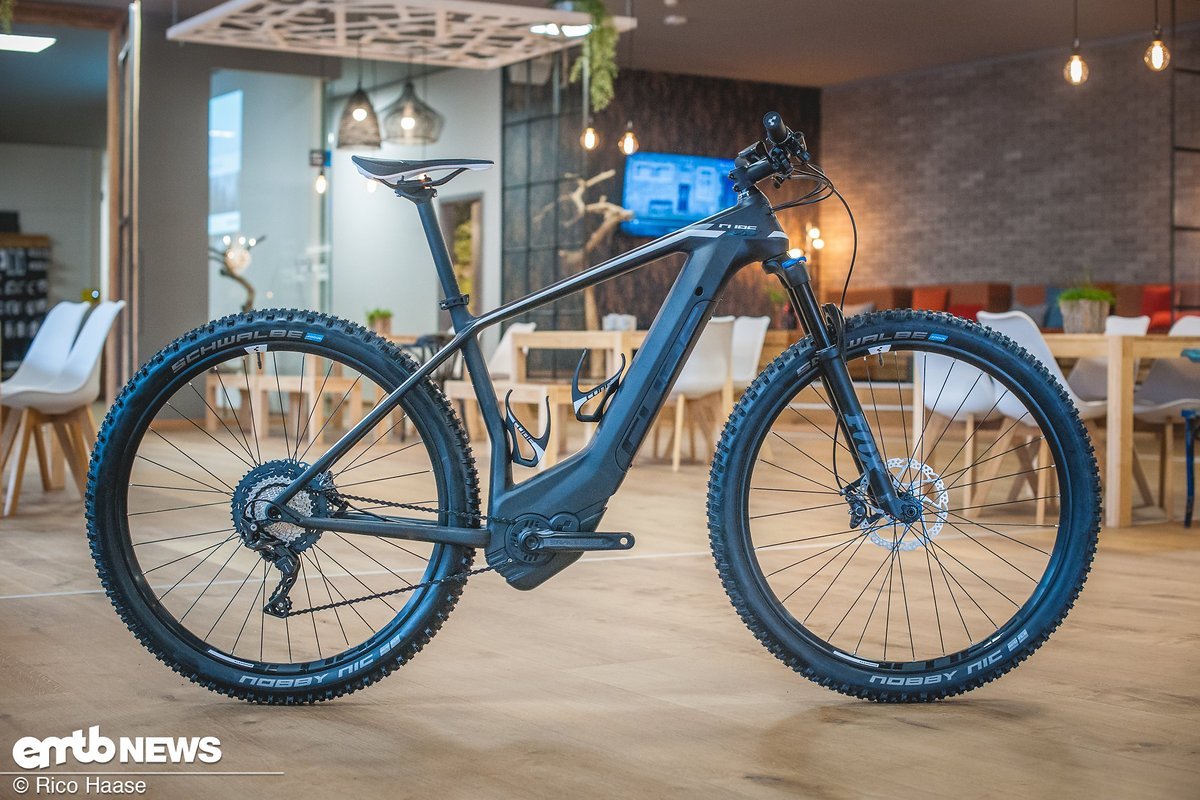 Cube Reaction Hybrid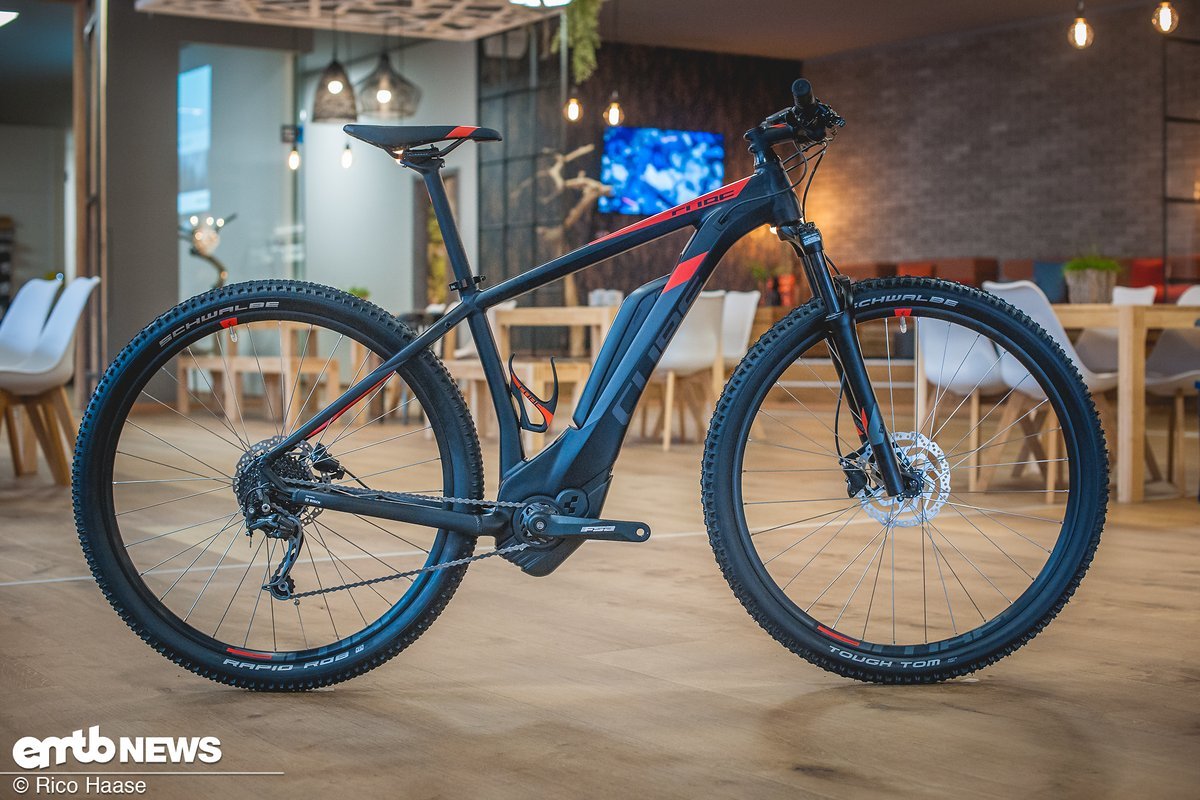 12 models are available in this range with both OnTube and PowerTube batteries. The colour-ways are fresh and modern. Componentry ranges from entry-level with a 400 Wh battery to high-end with a complete XT groupset and Fox forks.
A model to take note of is the Reaction Hybrid Pro Allroad 500, which is aimed at commuters and ebike-tourers. You get a solidly specced eMTB with wide 29" tyres, mudguards, integrated lights and a stand. This will be well suited to leisure riders as well as daily commuting. With a 400 Wh battery this bike will cost € 2199, with a 500Wh battery it will be € 2399.
Price: € 1899.
Cube Acid Hybrid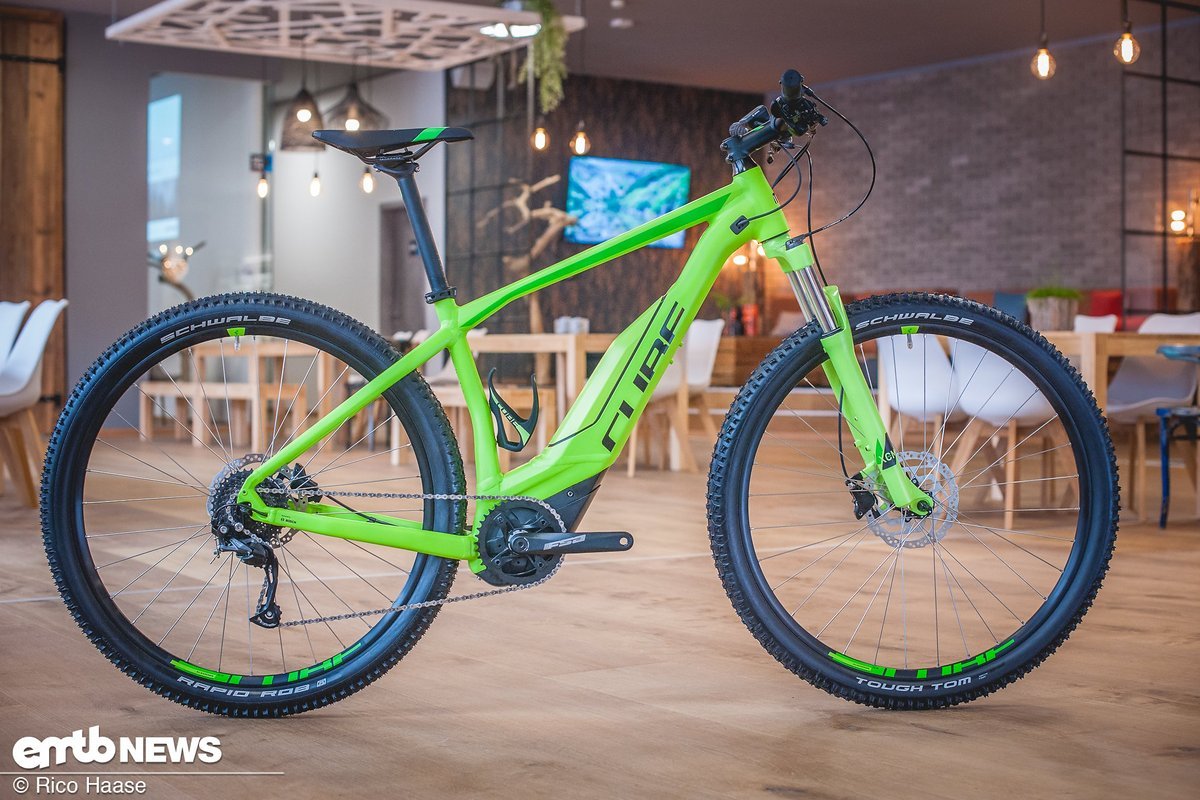 These models really piqued our interest. Cube designers have come up with a new category which they call "Crossmountain", essentially a modern reinterpretation of touring bikes. A sporty but comfortable spec comes together with a Bosch Active Line motor. Whilst it doesn't have the grunt of the more powerful models, it is completely decoupled above the 25 km/h limit speed giving a very natural riding feeling. These bikes will be available both as normal and step-through frames.
Nutrail Hybrid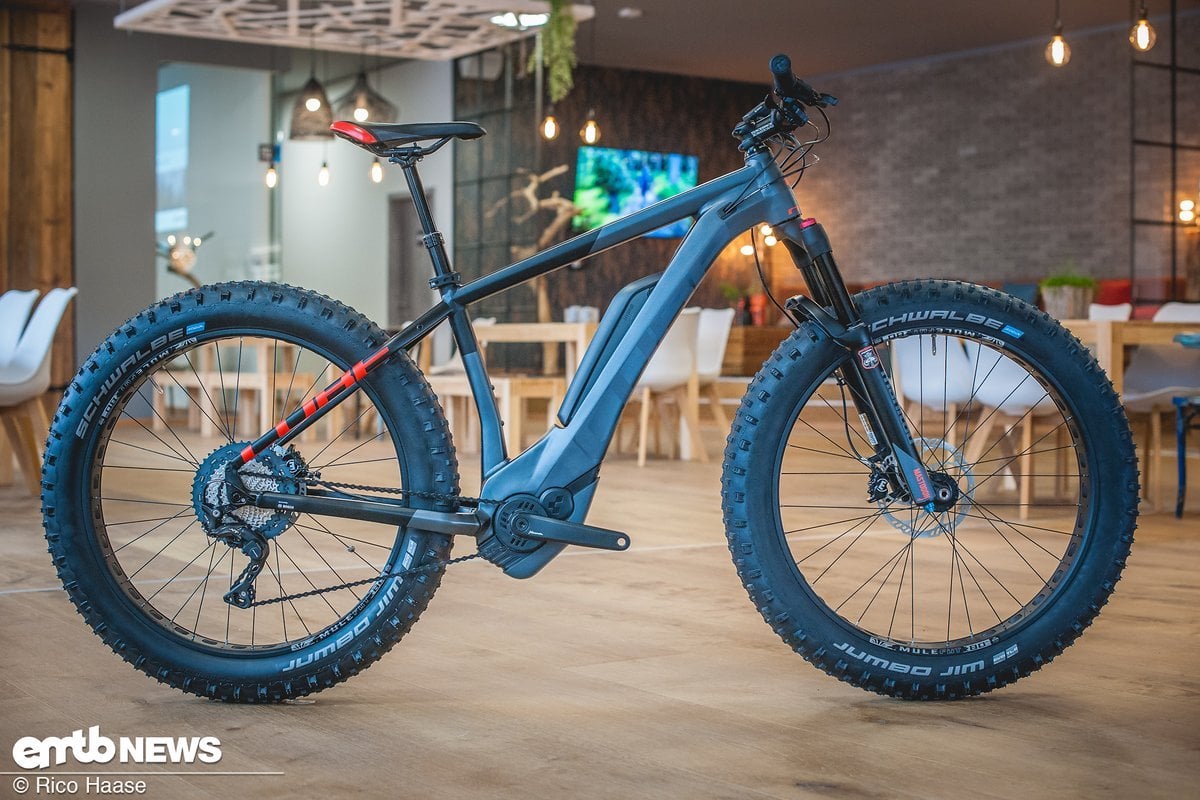 Let's be honest, we weren't really missing an eFatbike but Cube have delivered nonetheless. Solid spec with huge tyres give a plush ride on trails.
Pricing will be € 3699
Cube Womans Hybrid
Cube have also been developing female specific models with modified geometry, narrower bars and ergonomic grips. Cube are offering a comprehensive range of 13 different models across the Access, Sting 120 and Sting 140 series.
Prices start at € 1899 for a hardtail with 400 Wh battery
Cube Agree Hybrid C:62 Disc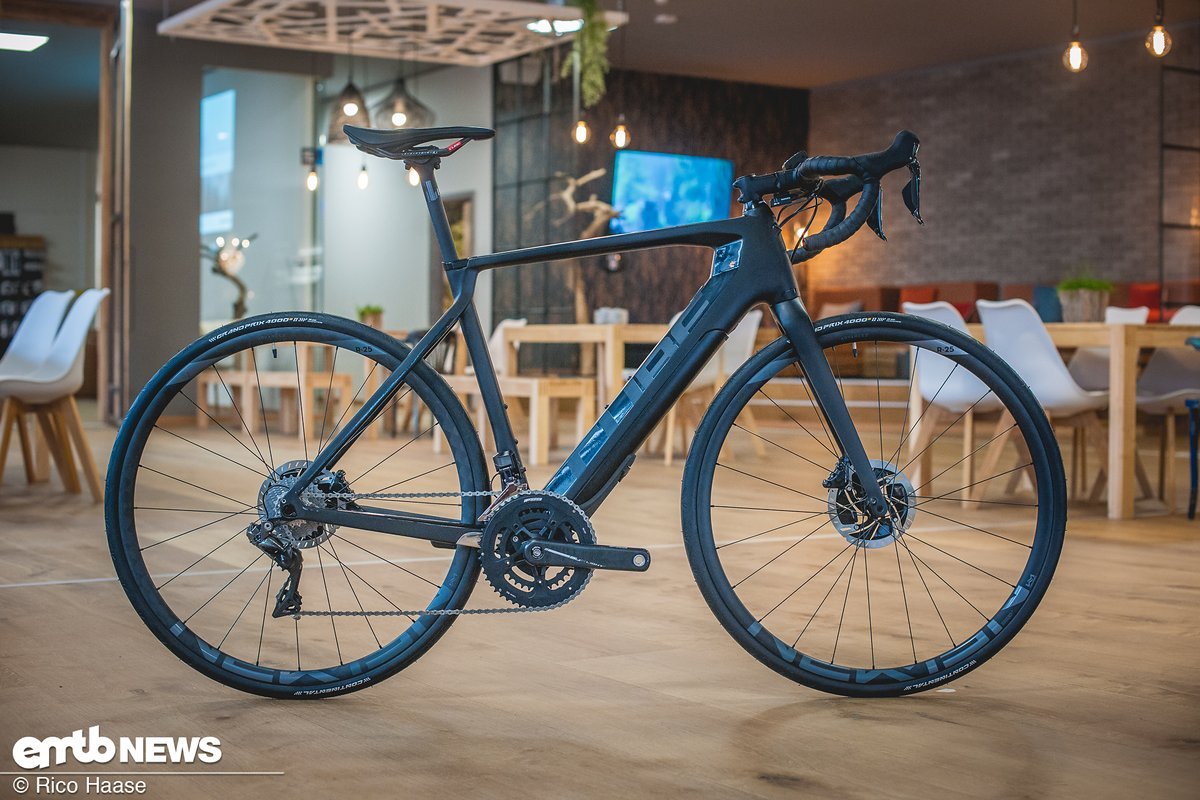 #
Cube Agree Hybrid C:62 Disc
And now for some really exciting updates! Cube are presenting a completely new bike in the range with the Agree Hybrid C:62 Disc eRoadbike. The bike is based on a carbon frame with traditional road-bike handling. The bike is powered by a Fazua motor, a unique concept on the market. With this minimal motor you have the option to remove the electrical components completely for unpowered riding. The motor has no resistance above 25 km/h and is remarkably lightweight. The complete bike weighs a paltry 13 kg and as a result handles like you would expect a normal bike to.
Cube is offering two models priced at € 4999 with a mechanical Ultegra groupset and € 7999 with Shimano Di2.
Cube Gear and Accessoires
Cube aren't just providing the bikes but also the assorted gear that you need for riding too! Cube has recognised the importance of having a broad product range and has its own design teams focussed on developing shoes, rucksacks, clothing and helmets. This allows Cube to create unique and distinct products that are matched to its bike ranges.
Cube Rucksacks
"A rucksack need to be adaptable to my requirements whilst being comfortable and un-intrusive in use. A companion, who's there, but also not there, so I can just focus on my ride. All this, and it still needs to look good and make a statement."
…says Alexander Hammon, product designer responsible for the new rucksacks, explaining the philosophy for this year's range. The new rucksacks make a good first impression, with significant attention to detail and a human-centred, ergonomic design approach. High-quality construction throughout, with sizes up to 24L and an optional back-protector available as well.
Preis- und Modellübersicht:
Pure 4 Race / 4L Capacity / € 49,95
Pure Ten / 10L Capacity / € 49,95
Edge Trail / 16L Capacity / € 139,95
Edge Twenty / 20L Capacity / € 89,95
Ox 25+ / 25L Capacity / € 129,95
Cube Helmets
Manufacturing a helmet is a challenge in of itself; making one that fits well is even more difficult. Cube has its own dedicated team of designers to solve this problem, the result of which is the "Batcher". At 320 g, it's at the lightweight end of the scale. It also has an adjustable visor that has enough space to stow a large pair of googles.
Größe: S (52-56) – M (56 – 59) – L (59-63)
Material: EPS Double-In-Mould
Gewicht: 320 g
Preis: 129,95 €
Cube Shoes
The 2018 range of shoes are named after animals native to the Fichtelgebirge (a mountain range in Eastern Bavaria), the local riding area for Cube – two examples of this: the Lynx and the Ox.
Leonard Blum, a designer for Cube spoke with us:
"Our team places very high demands on itself and the products we create. We have put a lot of effort into making the best product for our customers – one that isn't just attractive because of the design but also because of the materials we use and our quality of construction."
Colour-ways have been inspired by several of those in use on the new bike range. Various other updates have also been made. The Vibram soles are now designed specifically for the range and the shoes are designed around more fitted lasts. A new elastic lacing system makes getting in and out of the shoes significantly easier. A new stiffness rating scale goes from 1 – flip flop floppy to 10 – carbon race shoe stiff. The Peak Pro model featured here has a new low-profile ratchet to keep it protected from damage in the event of a crash.
The MTB Peak Pro costs € 129.95.
Our Opinion @eMTB-News.de
We've come away feeling impressed by the 2018 Cube product range. The eBikes look good, are well specced and cover every niche. It doesn't matter whether you're after an eTouringbike, eHardtail, eTrailbike or eEndurobike – Cube will have a bike for you at a competitive price.

The range presented here serves to emphasise Cube's position as the biggest bike and ebike manufacturer in Germany.

The rapidly expanding, in-house designed range of ergonomically designed gear and accessories such as helmets, rucksacks, clothing and shoes make an excellent first impression and are worthy of your consideration. 10 out of 10 to Cube here as well!
What do you think of the new Cube range for 2018? Which eBike would you like us to test?
---
More Information about Cube
Website: www.cube.eu
Text & Edit: Rico Haase, Benedict Pfender | eMTB-News.de
Photos: Rico Haase
This post is also available in:

Deutsch